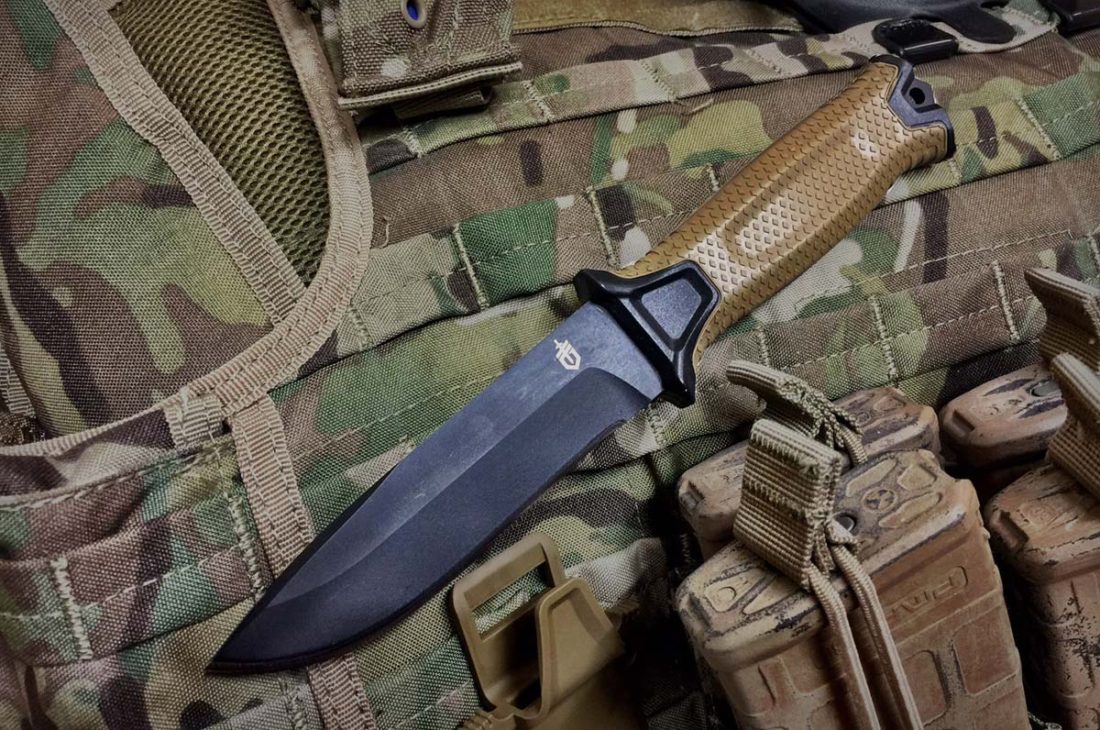 We've previously introduced you to the best EDC knives for your everyday carry. A list made up entirely of folding knives that are perfect for daily tasks such as stripping wires, box cutting, and separating game. They earn their place in your pocket carry but what about the bigger jobs? That's where fixed blade knives come into their own – perfect for the roles its smaller sibling can't handle.
Although most fixed blade knives aren't designed to be carried in your pocket, for obvious reasons, they still have a place in your everyday carry. Fixed blade knives are designed to be carried on your belt, in your day sack or even secured in your pick up. The best blades are capable of being turned into a multi-tool that can be used on a trek into the wilderness, on your annual family camping trip or behind enemy lines. A well made fixed blade knife will save your life in survival situations too, from making shelters to cutting firewood and rope to opening cans of food or skinning a catch.
Fixed Blade Knives – Not Just For Everyone
Fixed blade knives are best for those that enjoy the outdoors, those that are up for an adventure, living off the grid for days or even weeks on end. They're strong because of the tang, the extension of the blade into the handle, and no moving parts. If you're looking for a knife you can carry every day then consider a folding knife. These are purposed for defense and survival tasks.
In no particular order, our guide will help you to find the best fixed blade knives that are worth every dollar, an investment for many years to come.
Strider Knives Model SA
The Model SA from Strider kicks off our list of the best fixed blade knives. It's built for a number of carrying styles and weighs heavy in your hand making it a sure bet when there's a big task ahead. Constructed from thick CPMS30V steel, the SA tops out at 7.25-inches with a 3.25-inch blade and comes with a choice of a paracord wrap or a pair of G10 scales as a handle.
Designed for a belt, concealed or neck carry, there's an optional combat sheath available, constructed from heavy webbing with tie down grommets and sewn in belt loop.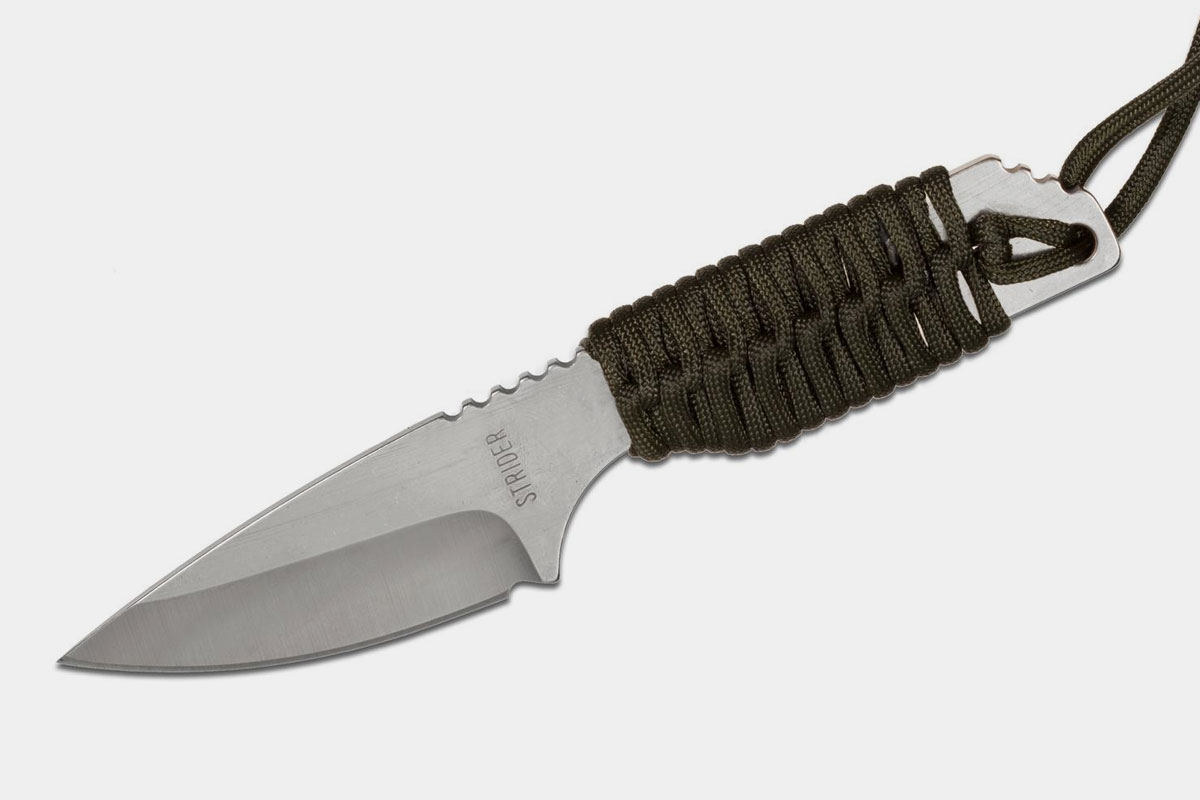 SOG Seal Pup Elite Knife
Part of SOG's SEAL series lineup, the Seal Pup Elite is designed for use by the U.S. special forces; when a high-performance blade is necessary. That doesn't mean it's reserved for the elite of the elite; it can perform just as well on your next trip into the wilderness. If it's good enough for the SEAL's, then it's going to be good enough for noncombatant tasks.
With a black TiNi finish the thick .185 stock steel blade will cut harder and stay sharper for longer. With an added rasp to the blade's spine, you'll be able to carry out smaller, more intricate cutting tasks without your thumb slipping and the glass-reinforced handle offers plenty of grip in any condition, with or without gloves.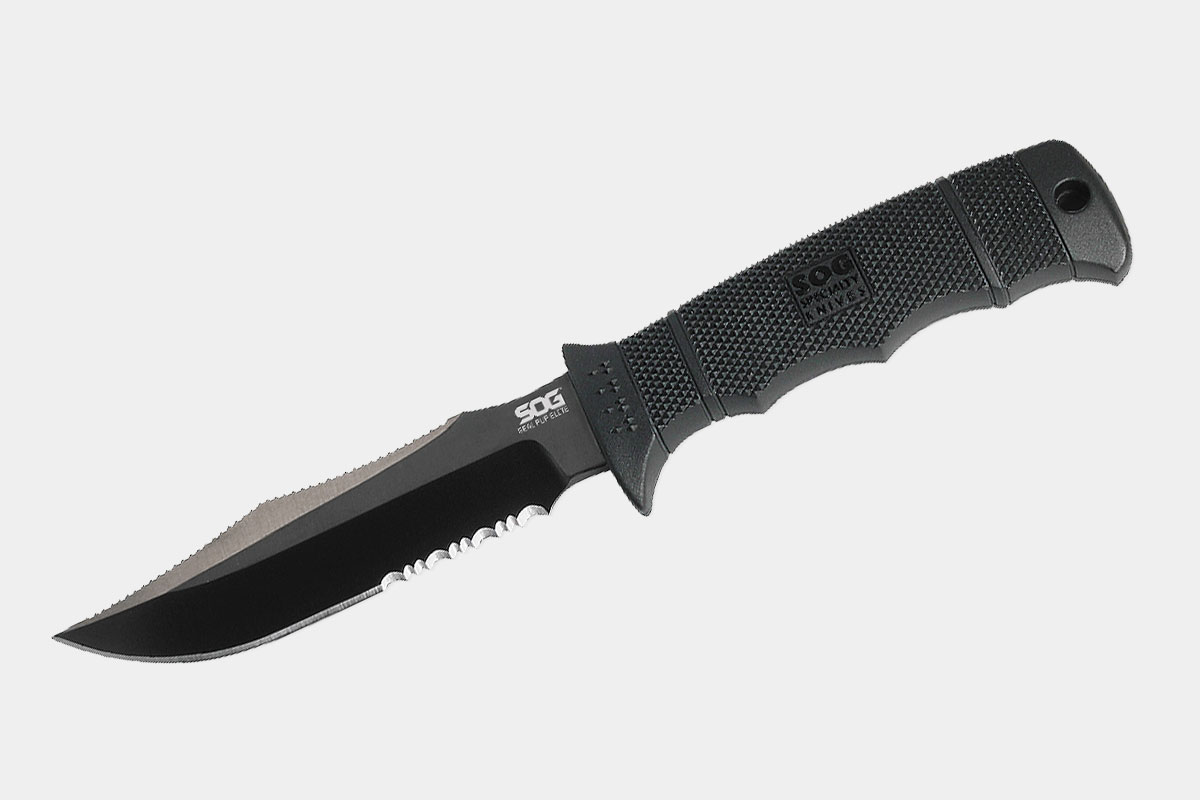 CRKT Folts Minimalist Bowie
CRKT's Minimalist Bowie has a uniquely shaped handle that aids control and will feel secure in any grip (although larger hands may be a slight squeeze). The deeply cut grooves in the micarta handle let you wield a blade with unrivaled precision without fear of slippage even in the worst environments.
The razor-sharp blade is made from stainless 5Cr15Mov steel, and the bowie shape lets you or any assailant know this blade means business. It's simply one of the most beautiful neck knives that we've seen, all thanks to a collaboration with renowned knifemaker Alan Folts.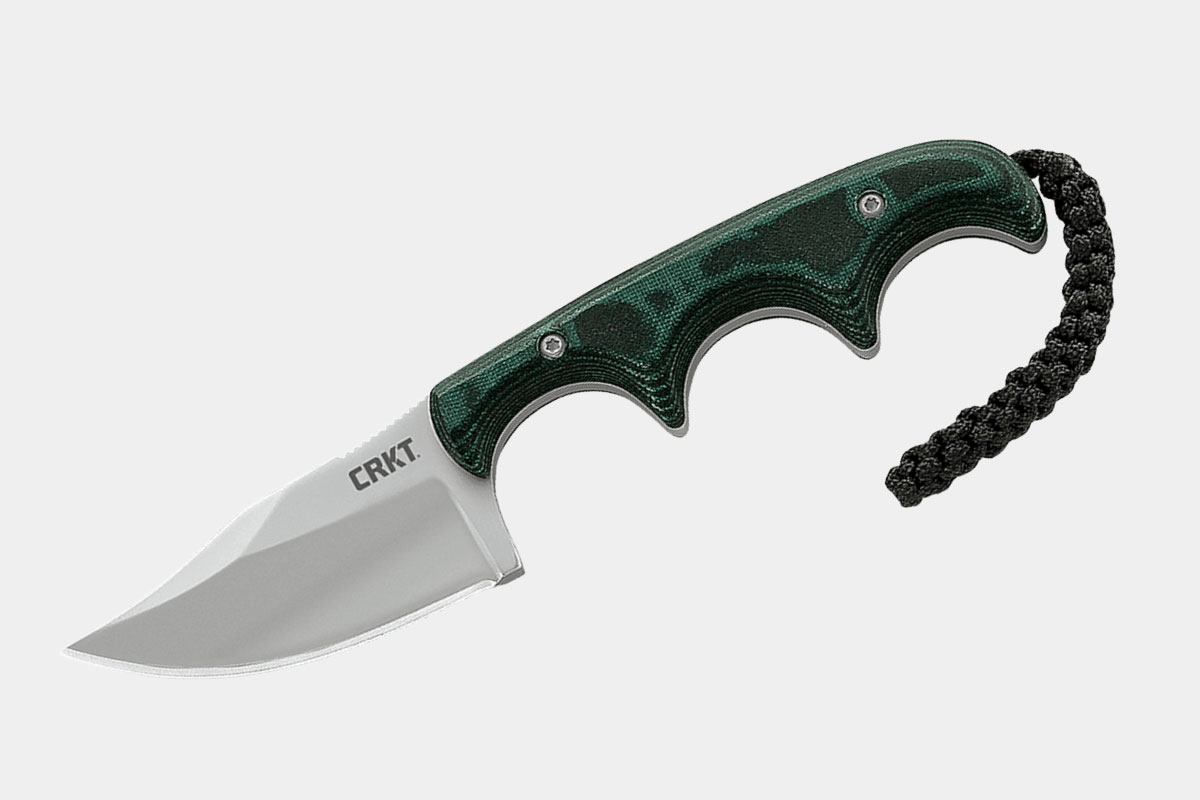 Cold Steel Recon Scout
Cold Steel has been around for over three decades producing some of the strongest, sharpest fixed blade knives in the world. Their blades perform day-in-day-out and have been at the forefront of the many innovations that have helped to define the knife industry as a whole.
The Recon Scout is no exception. It features a durable Kray-Ex handle with a heat-treated and tempered 7.5-inch high carbon steel blade. This process rivals the strength, toughness, and edge retention of a Japanese sword. You'll be hacking your way through the jungle in no time.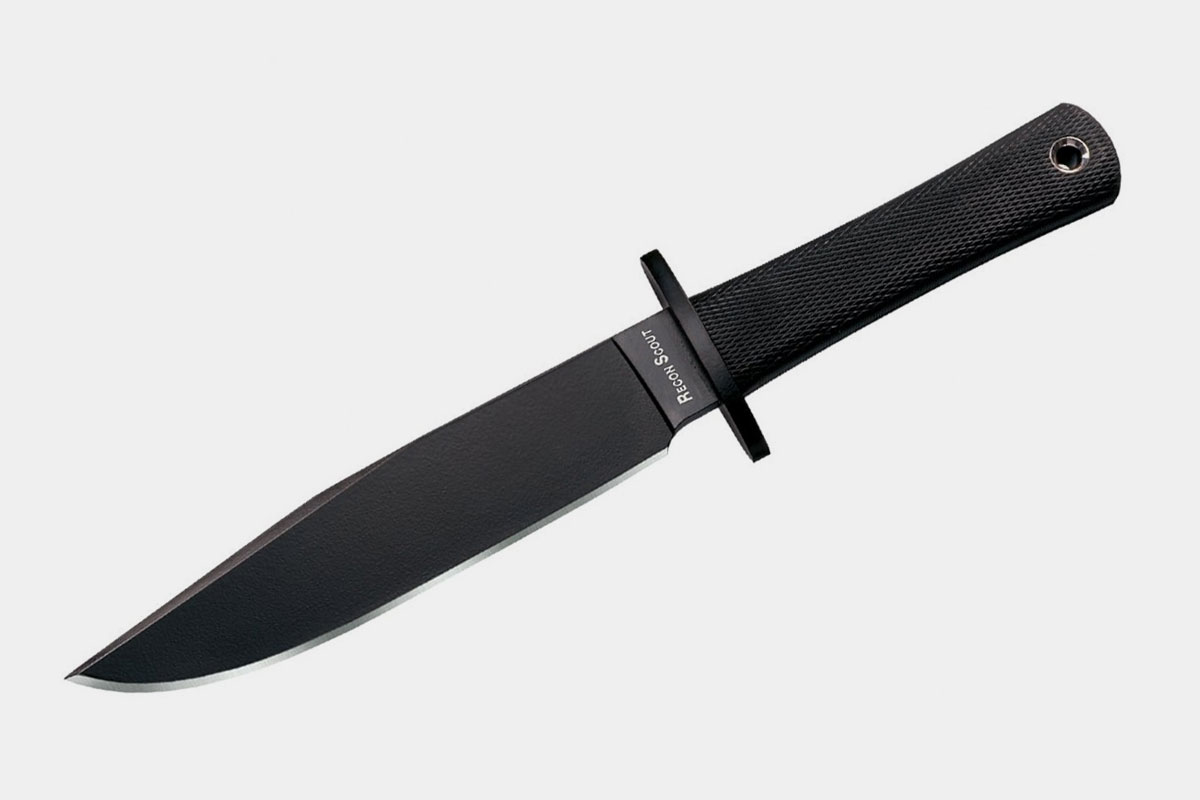 Zero Tolerance Hinderer Fieldtac Knife
This Rick Hinderer-inspired Fieldtac Knife is lighter and smaller than many of the other fixed blade knives on our list. But that doesn't mean that what it lacks in size it can't make up for in heavy duty cutting tasks.
The blade is made of Vanadis 4 Extra powder metallurgical cold work steel that offers excellent wear resistance and resistance to chipping and cracking. The full tang design strengthens the knife further, while the G-10 scaled handle provides durability as well as reduced weight.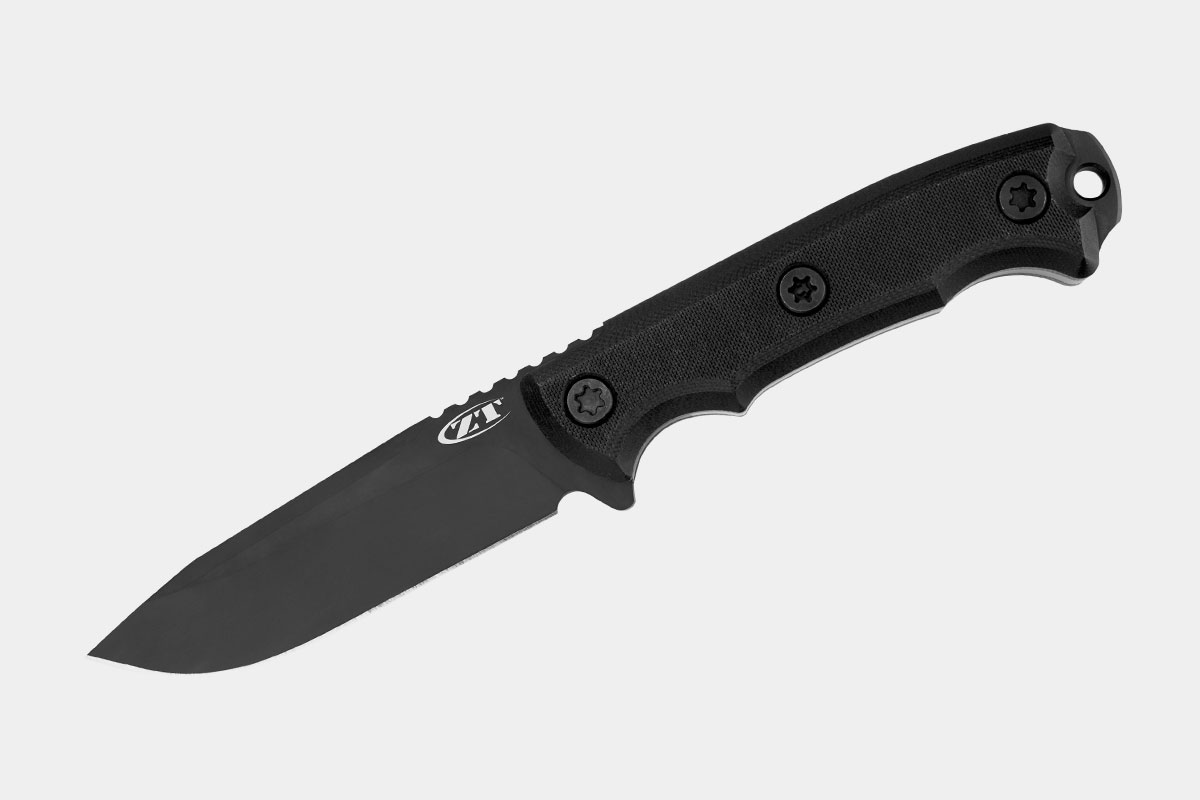 KA-BAR USMC Fighting Knife
This is one of the most durable blades on our list. It's simply designed for either fighting or survival and is steeped in history. Conceived in 1942, the USMC Fighting Knife has featured in almost every branch of the military solely used as their combat purpose blade.
The leather handle and 1095 Cro-van steel blade ooze tactical and defense, designed for carry in the most hostile of environments. On one end of the handle is a reinforced pommel that can smash through windows as easily as it can an assailant's skull. The other end features an enhanced guard to protect your hand from slipping. The blade with its blood groove and taper ground edge all shout attack making it a knife that is sure to get you out of any sticky situation.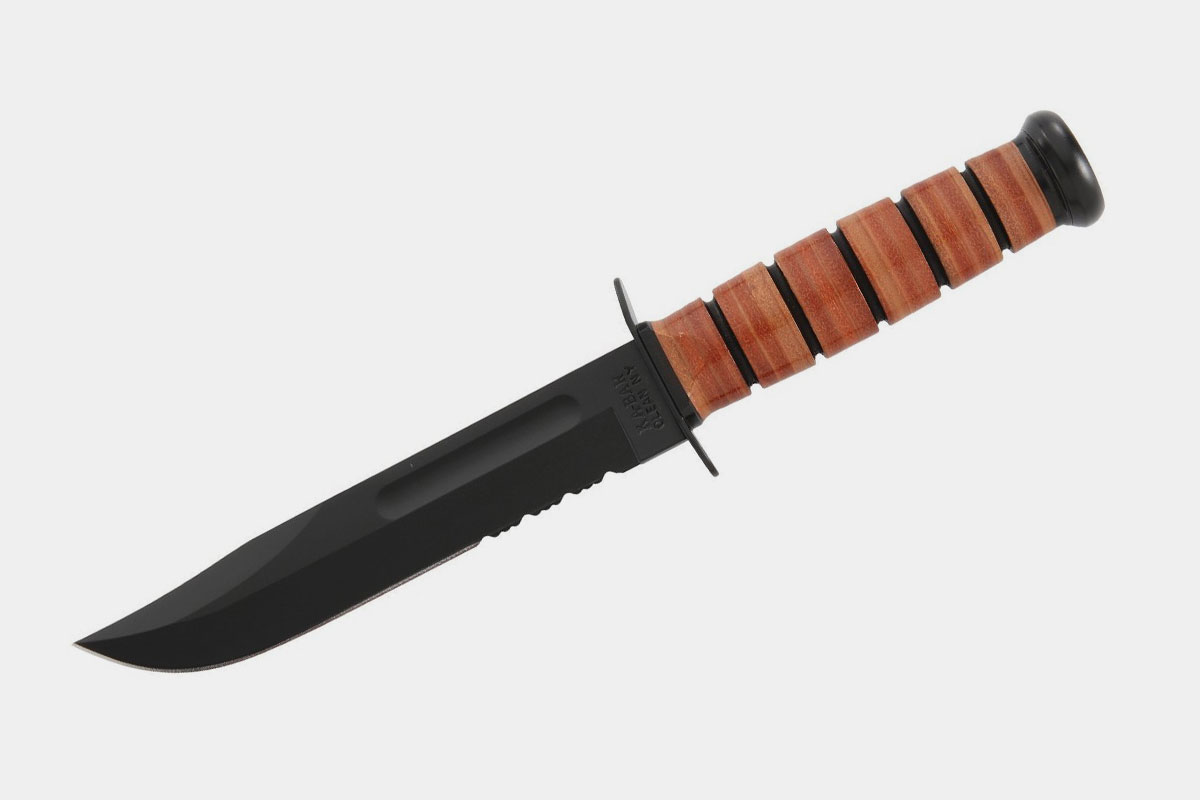 Spartan Blades Harsey Model 2
This is Spartan Blades second collaboration with world renowned knife maker, William "Bill" Harsey and has been designed for a dual role as a combat knife as well as a hunting knife.
This full tang knife and its blade profile, top bevels, and hollow grind work well on either the battlefield or cleaning a trophy buck. Spartan's plan was to make a knife that a service member could carry in combat and use after returning from war when camping and hunting. Finished with a micarta handle the scales are 3D machined to an ultra tight tolerance to provide a comfortable and sure grip. This knife will serve you well no matter what you are hunting.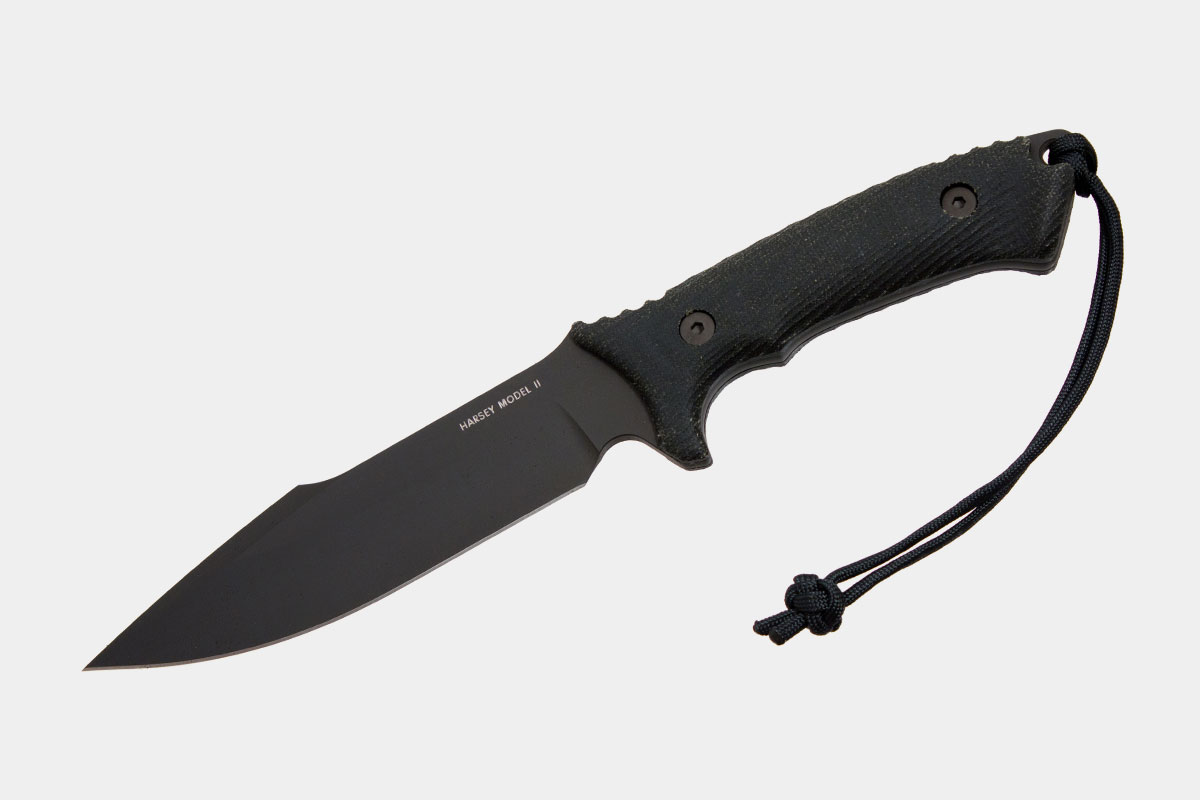 Cold Steel Leatherneck SF
Like the KA-BAR USMC Fighting Knife, the Leatherneck SF, short for Semper-Fi, is a military-inspired bayonet designed for close quarter combat and service cutting tasks faced in the field.
The thick, full tang steel blade is finished in a stealthy black and features a heavy duty double guard that protects your hands, while the checkered Kraton handle provides a solid grip. The Leatherneck SF also features a machined steel butt cap that can deal a hefty blow to your opponent or can quite happily be used for hammering down guylines.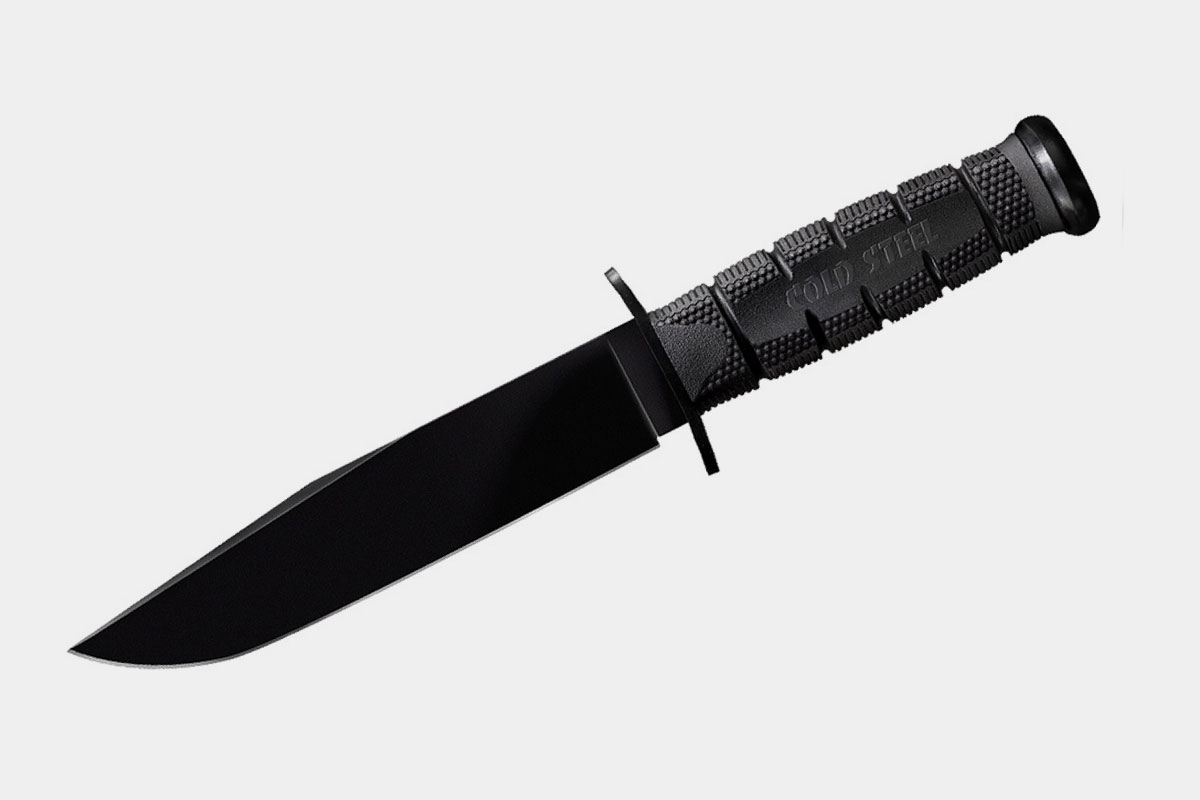 M48 Cyclone Fixed Blade Knife
Designed specifically for a combat role the M48 Cyclone's eight-inch blade is made from a 2Cr13 stainless steel featuring a unique spiral design. At the tip of this unusual knife is an incredibly sharp piercing point that leaves little to the imagination of its purpose. And on the opposite end, the base of the handle has a stainless steel "skull crusher" pommel attached to it.
With so many sharp points to the M48, it comes with a specially designed TPR and Nylon belt sheath to keep you away from the danger while carrying. At over 13.5-inches long, this isn't your standard blade, but the fiberglass and reinforced nylon handle gives exceptional grip, so there's no worry about being able to handle such a weapon.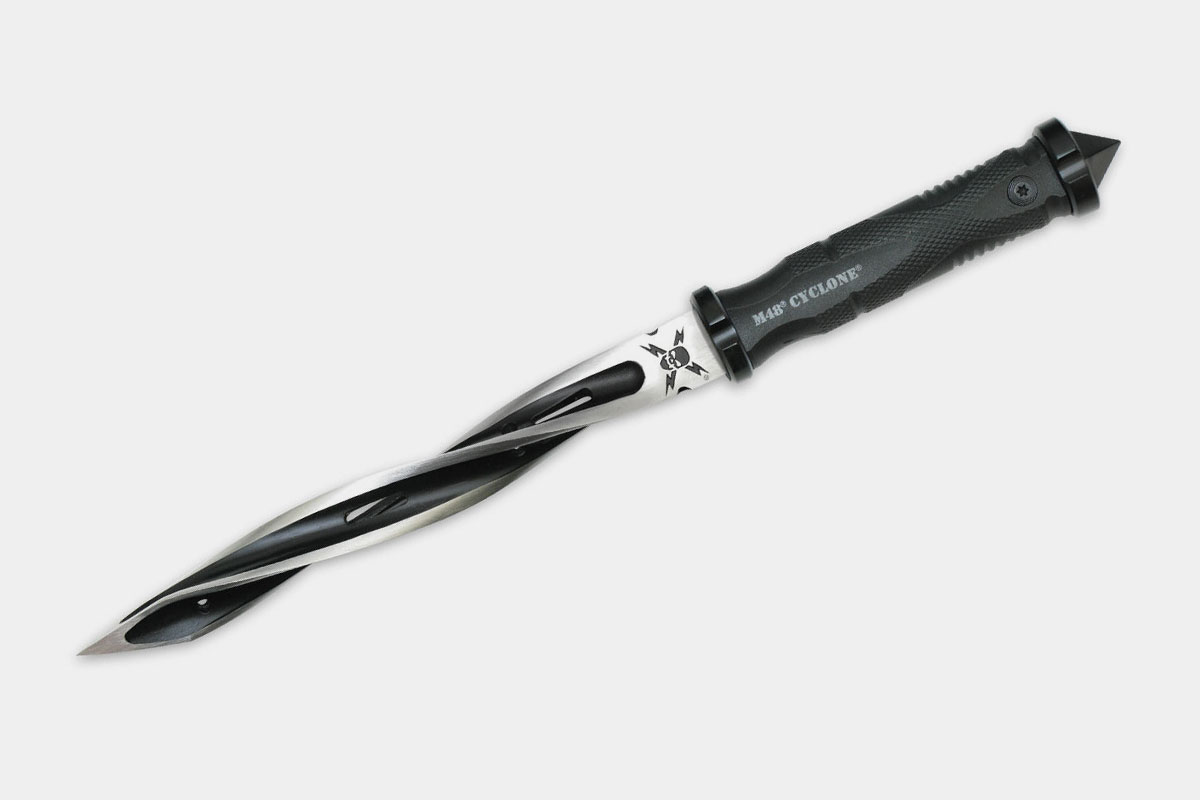 Smith & Wesson SWHRT9B Boot Knife
Before reading on it's worth noting that as a double-edged knife this may be illegal in your state if used for a combat role. If you're safe to read on then, this boot knife is a sure choice if you need to conceal a second blade on your person. It's larger than most boot knives at nine-inches, but that just adds to its utility while remaining perfectly balanced for throwing.
The rubber handle gives it a sticky grip and comes with a lanyard hole so that you can clip it onto your belt should your boot be too low. To finish; the stealthy blade features a center groove so that when it causes a wound, it won't get stuck.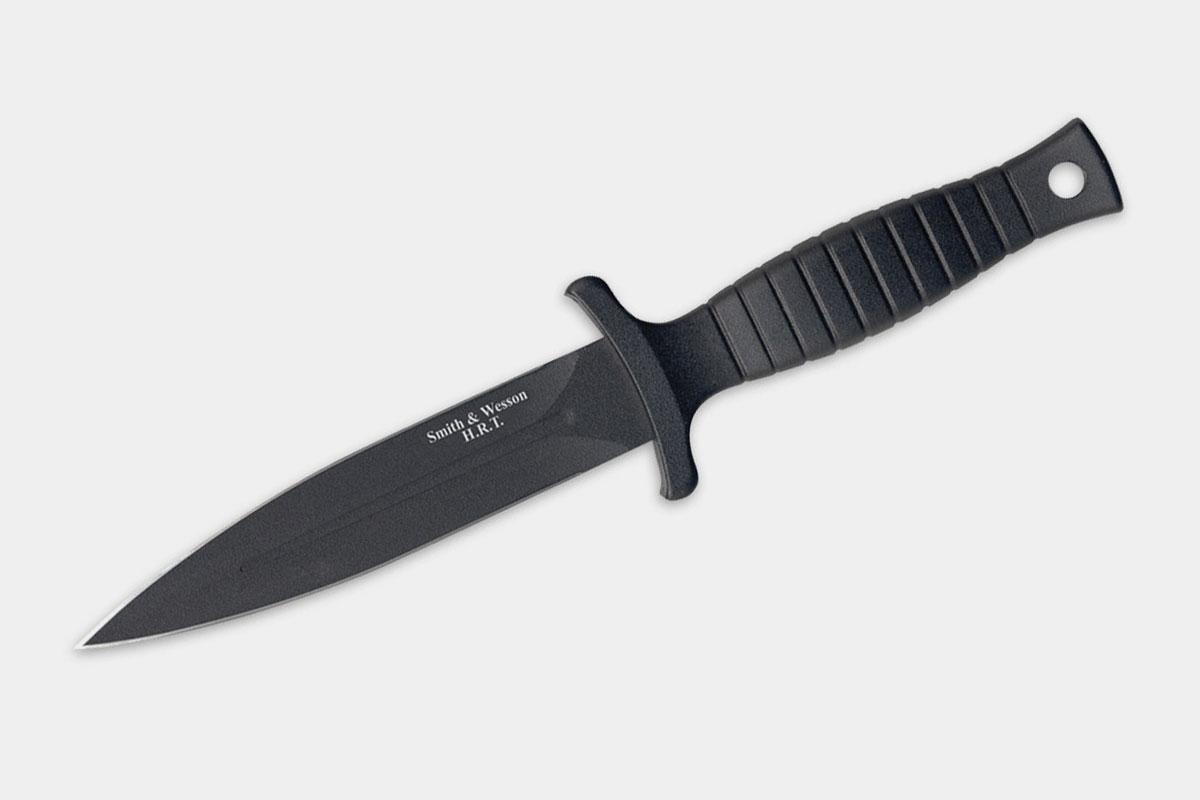 Benchmade HK Conspiracy Knife
The Conspiracy Knife from H&K is an overbuilt beast that can handle just about anything. It's all about bigger is better with its high traction 0.2-inch thick full tang.
The 4.8-inch 9CR13 stainless steel tanto blade with a plain edge is finished in black and is the ideal choice for a self-defense carry. And although it's not up to intricate cutting and slicing tasks it is both thicker and stronger than other blades, and the G10 scales on the handle mean you'll never lose your grip.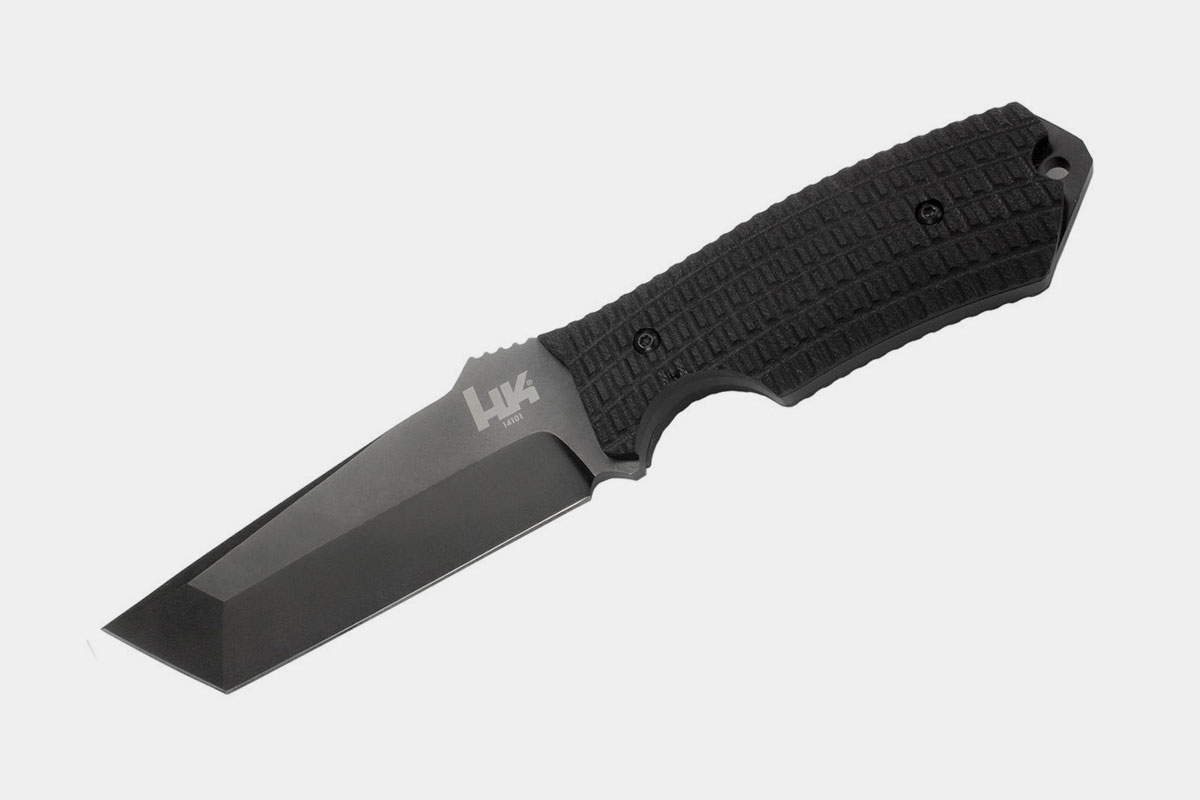 Spyderco Street Beat
Spyderco's Street Beat is made for close quarters combat. The handle is comfortable in various grips and hand sizes, and the large finger choil gives you plenty of protection when wielding the knife.
Made from VG-10 steel the flat ground blade is designed by knife guru Fred Perrin, so you'll understand why this knife means business. To complete the Street Beat an ergonomic micarta grip handle will keep you cutting for hours without blistering your hands.