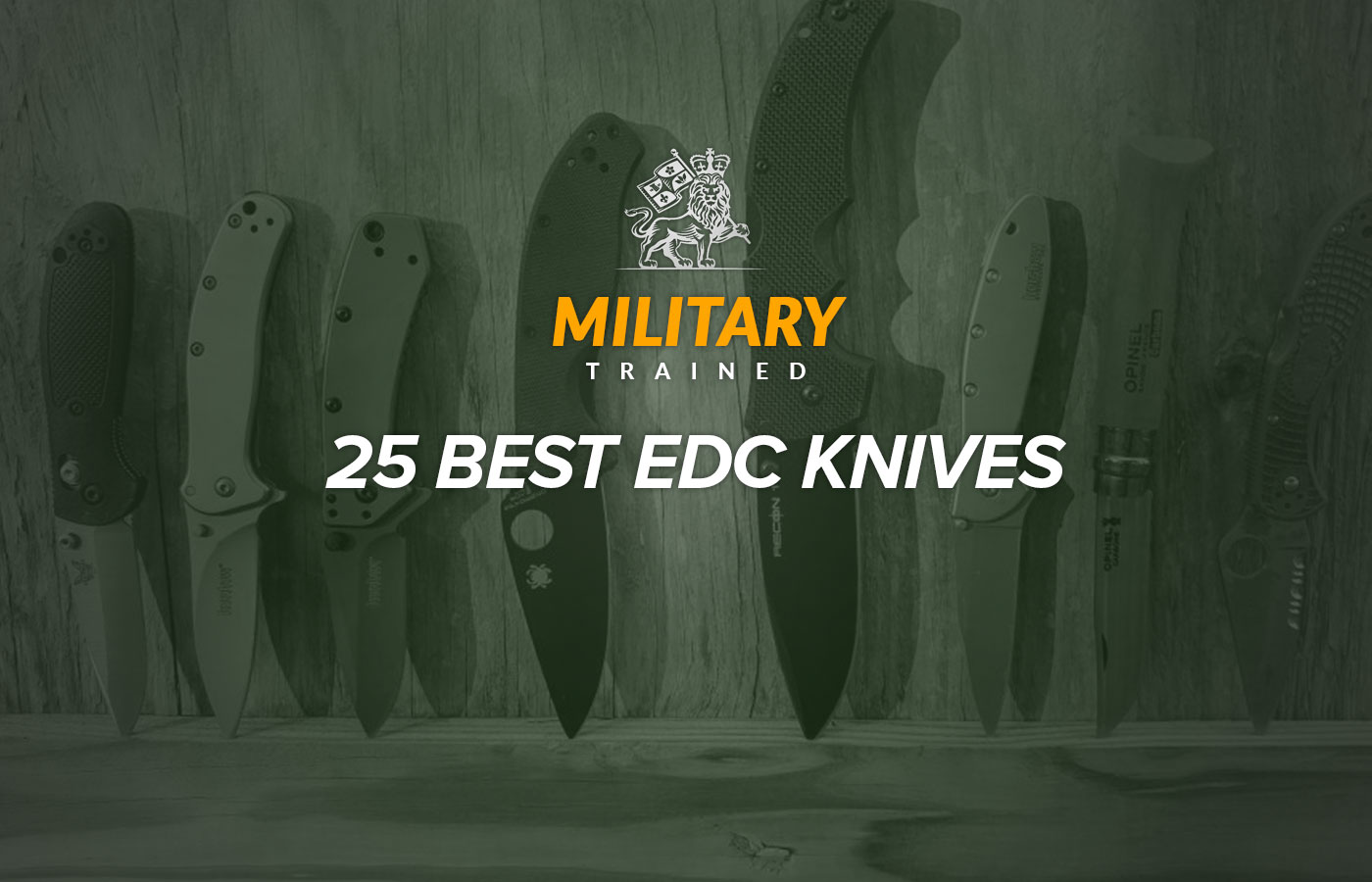 We talk a lot about the term 'everyday carry'. Not everyone understands what it means, but you're almost certain to be a part of the movement. It's a space that's growing rapidly, and a cornerstone of that is EDC knives.
Everyday carry items are pocket sized friendly gear that you can take anywhere, and one of the best tools you can bring is a folding pocket knife. EDC knives will come in handy more often than not from mundane tasks such as opening mail to survival situations such as cutting paracord or rope. While there are literally dozens of knife brands from large manufacturers to small custom shops it can be frustrating to find the best EDC knives with so many to choose from.
The best part is you don't have to sink hundreds of dollars into one. But inexpensive doesn't mean cheap, EDC knives come in all shapes and sizes, functions, materials and finishes. And each one of them will be worth the cost, they save you time and effort and by carrying one you'll have a tool to hand when you'll need it most.
EDC Knives – Finding The Right One
In this guide, many of the brands offer more than one option of the knife we've picked, so we've rounded up 25 of the best EDC knives you can buy. Highlighting the best knife makers and manufacturers in this space. It might not be the most definitive breakdown of EDC knives but they're the knives we would 100% recommend if you asked us "What's the best EDC knife I can buy?".
Opinel No. 8 Trekking Knife
Opinel is one of the forefathers of everyday carry. Their knives have been used by generations since the late 1800s and so deserve a rightful place on our list. All of their folding knives are numbered from two through to 12, small to large, each of them featuring Opinel's iconic styling.
This version, the No. 8 Trekking Knife is small enough to be used as a pocket knife, and its 3.25-inch blade prevents it from being considered a weapon in most states. The Sandvik stainless steel blade is attached to a beechwood handle and locked in place with Opinel's signature Virobloc safety ring. The No. 8 also comes with a rugged synthetic leather sheath with a carabiner clip to attach to your belt or day pack and at just $15 this is one of the best EDC knives on this list.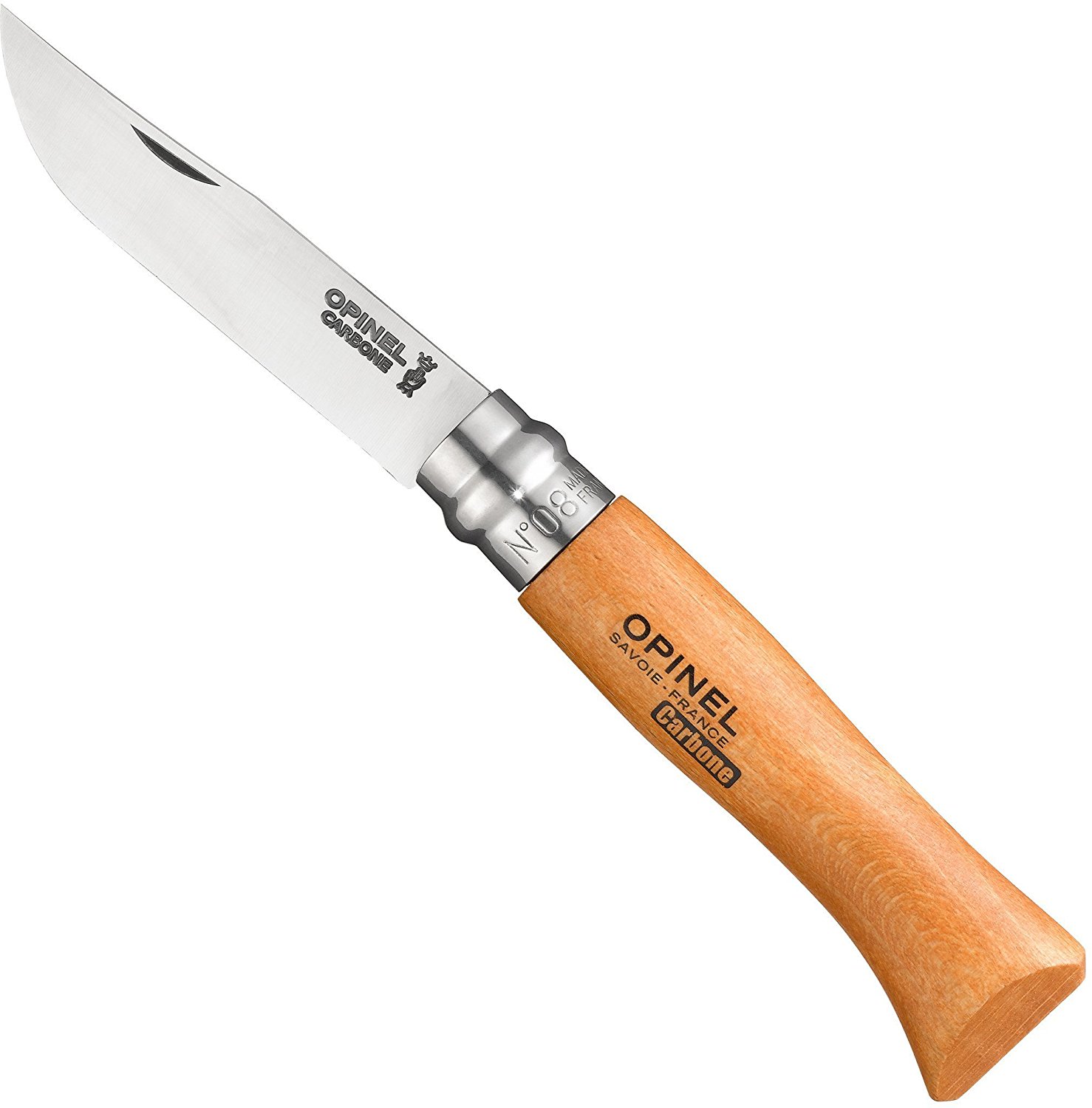 CRKT Delilah's P.E.C.K.
The CRKT Delilah's P.E.C.K. EDC Knife has been designed to create the ultimate high-performance cutting tool. A blade that is perfect for everyday carry you can slip the blade discreetly into any pocket, or if you prefer to brag, on a keychain or lanyard. Short for "Precision Engineered Compact Knife," and weighing less than an ounce you won't even feel it's there.
At only 2.625-inches long when closed you'll still have space for the rest of your pocket gear, with room to spare. Opened, the 1.75-inch Razor-Sharp Wharncliffe blade is a cutting tool suited for hundreds of everyday jobs. Made from 420J2 stainless steel the knife features a thumb stud for one-handed deployment and as the blade is fully rotated open, the frame lock snaps in behind for a solid lockup.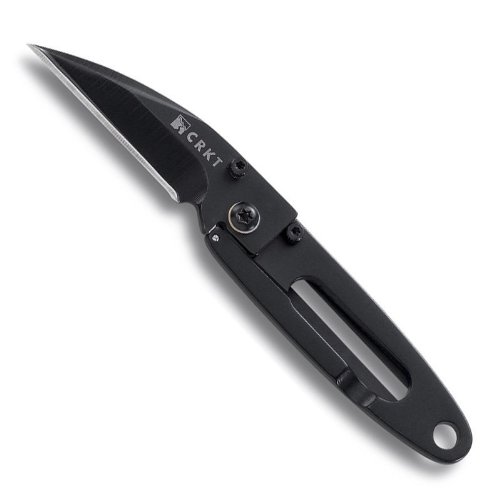 Cold Steel Tuff Lite Serrated Edge Folding Knife
The only fully serrated blade on out list, the Tuff Lite is the perfect size to slip into a pocket, wear around your neck or clip to your waistband. Despite its small size, this is one hell of a tough blade that can be relied on to get the job done.
Weighing only 2.5-ounces and measuring 6-inches long when fully open, the Tuff Lite is an easy EDC knife to carry discreetly. Boasting an incredibly sharp, hollow ground blade, this knife is designed to shear through the toughest materials with ease. The 3.5-inch long Griv-Exd handle offers surprisingly good grip in all conditions while the slant point penetrates deep and gives precision cutting without appearing aggressive to attract unwanted attention from the law.

Boker Plus Subcom Pocket Knife
Boker is known for their great folding knives and although this blade is more tactical than most EDC knives it still makes it onto our list because of its pocket-friendly design. Weighing 2.5-ounces and measuring just 4.5-inches, the Boker Plus Subcom Pocket Knife is a great blade to gain an edge in your everyday carry.
Despite its size, the Subcom is a capable tool. The black coated, partially serrated blade is made of AUS-8 stainless steel and boasts an ambidextrous thumb stud while the nylon handle is reinforced with fiberglass. There is a reversible pocket clip that can double as a money clip and both thumb and palm index ramps provide a secure grip for lighter cutting tasks around camp. It doesn't have the capabilities of it's larger brethren but it makes for an alternative EDC knife when space is at a premium.

Gerber GDC Tech Skin Pocket Knife
Everyday carry should be small, lightweight, and fit your pocket along with the rest of your gear. That's why at 3.4-inches when closed, the Gerber GDC Tec Skin Pocket Knife is the perfect example of an EDC knife.
Designed for light cutting tasks such as stripping wires or opening boxes the 2.5-inch stainless steel drop point blade folds into a rubberized handle that provides a secure grip. With no exposed metal when closed the Tech Skin Pocket Knife eliminates scratches to your phone or other valuables. And if you're looking for a quick one-handed opening knife, the GDC comes with dual integrated thumb studs with a lock back safety feature.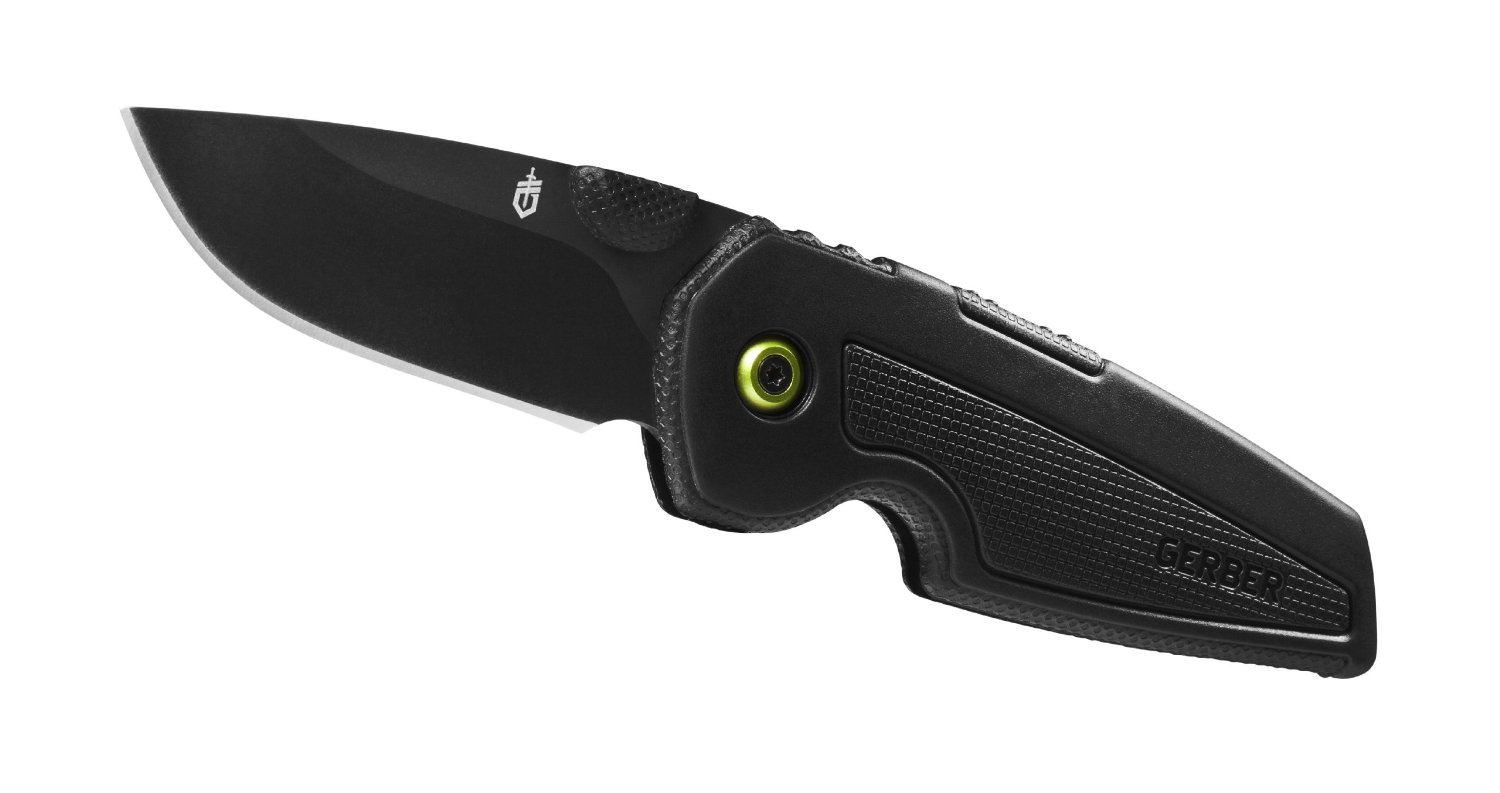 Schrade SCHA5B M.A.G.I.C. Folding Knife
If you're looking for an alternative looking blade then, the Schrade M.A.G.I.C. Assisted Opening Liner Lock Folding Knife shouldn't be missed. Looking like the panels on a Stealth bomber, the matte black aluminum handle features an angled design that provides a comfortable and secure grip.
The carbon stainless steel clip point blade measures 3.3-inches and is finished in a stealthy black and boasts ambidextrous thumb knobs for one-handed opening. There is a built-in lanyard hole as well as a pocket clip for versatile carrying, and a safety lock to stop the blade from closing while in use. This EDC is a showpiece that will be frequently asked about among your friends.

Deejo Granadilla 37 Gram Knife
Weight is an important factor when choosing a pocket knife for everyday carry. Deejo, and their French design team has created one of the lightest series of EDC knives, designed especially for hikers. And even though the Deejo range may weigh the same as a pen, no corners have been cut on the quality and finish.
Weighing in at a lightweight 37-grams the eight-inch Granadillo pocket knife features a titanium-coated 420-grade stainless steel blade and an integrated liner lock. Because of the skeletonized design, each blade can be completely customized from blade artwork to the finish of the handle and even the size.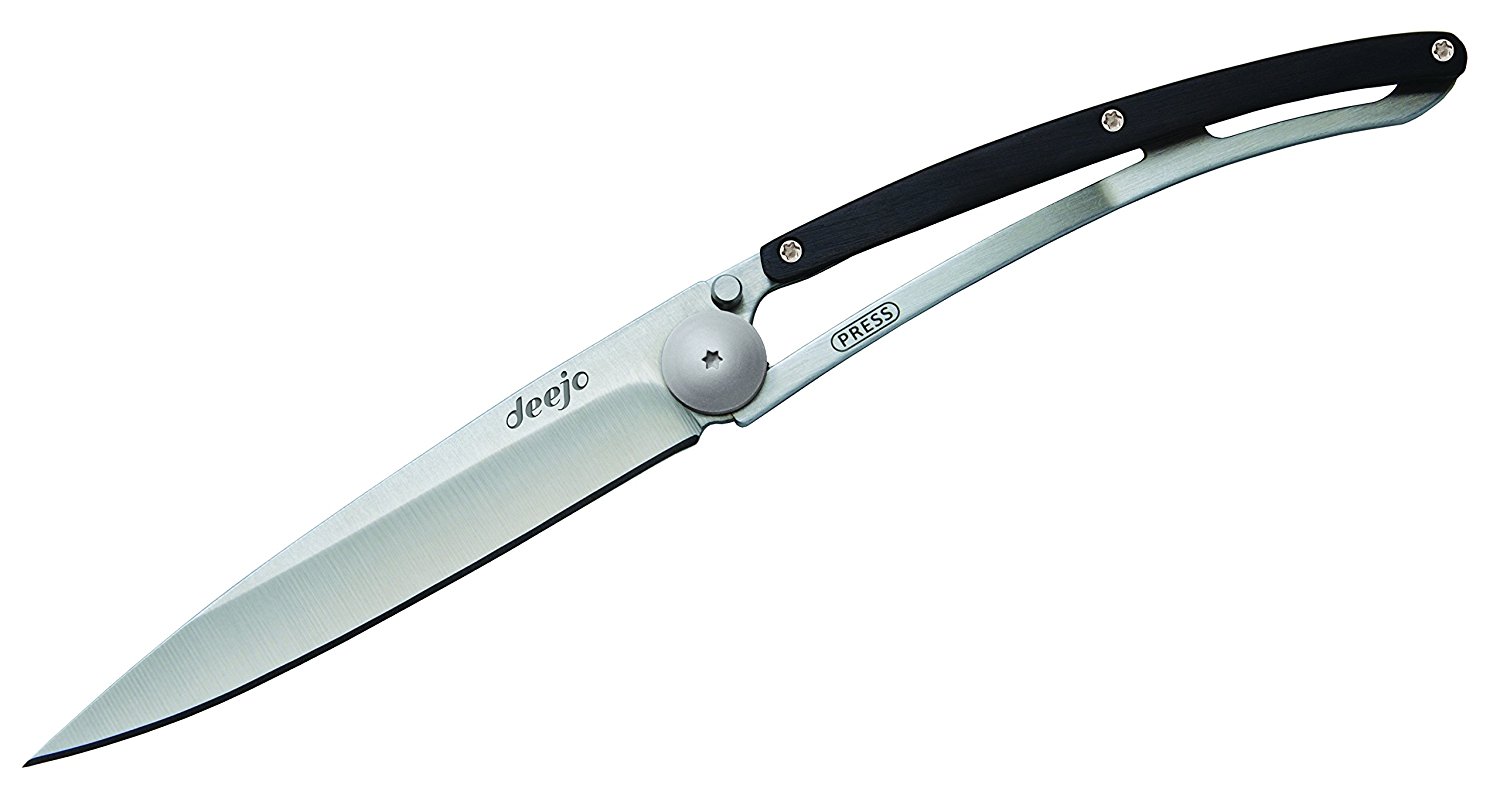 Cold Steel Pocket Bushman WITH STAINLESS HANDLE
The Bushman from Cold Steel is a dependable and rugged folding knife designed for the outdoorsman. This isn't the smallest of pocket knives, with a 4.5-inch blade and a handle that measures almost 6-inches, but despite its size, the Bushman still weighs just 6.6-ounces.
The sub-zero cryo-quenched 4116 stainless steel blade is astonishingly durable and will maintain a super sharp edge, perfect for intricate cutting tasks. Featuring a mono block construction the handles are without liners, scales or back spacers. Instead, a single sheet of stainless steel is folded in half to form the blades housing to provide immense strength and rigidity, in addition to Cold Steel's Ram Safe lock.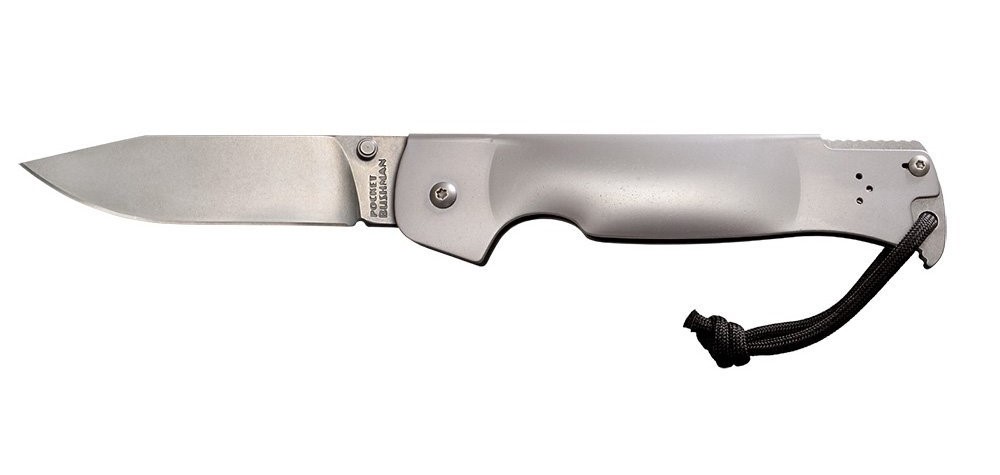 CRKT Fulcrum 2 Knife
Another collaboration from CRKT, this time teaming up with North Dakota's knife designer Russ Kommer. A beautifully designed EDC knife, the Fulcrum 2 will quickly start a conversation wherever it is used and will finish a job equally as quick.
With classic good looks, the team has added a unique twist with the innovative frame-flick opening system. Using just your thumb to open it you push down on the sliding scale and pull back on the handle to lock the blade into position. The attractive pattern to the carbon fiber handle not only looks great but keeps the overall weight down and grip levels up. The thin, sleek modified drop point blade is just 3-inches long and features a Titanium Nitride finish, and at just over 4-inches in length when closed, this makes for a very likable everyday carry.

5.11 Tactical DTP Knife
Known for their line of tactical flashlights and pens, 5.11 also make a range of no-nonsense tactical knives that are designed to get the job done. If you're questioning 5.11's ability to develop a worthy knife then don't. Each blade is designed with a tactical advantage with a variety of fixed and folding knives that are sturdy and compact enough for everyday carry.
Featuring a 2.85-inch AUS8 steel spear point blade, the DTP knife is sturdy, compact, and pocket-friendly for easy carry. A Grey Teflon coating reduces glint and glare and repels moisture and soil, and the skeletonized handle with textured grip ensures a confident hold with or without gloves. The DTP also features a reinforced lock back mechanism, an ambidextrous thumb hole for smooth and accelerated deployment, a lanyard hole and a reversible pocket clip for multiple carry options.

SOG Trident Folding Knife
Favored by the military, SOG Knives are used by the elite of the elite, so whichever knife you pick you'll know it's DNA has been forged from years of hardened field use. The Trident is an EDC blade that's tough enough to be used on a daily basis for either military or civilian use. Whatever the situation SOG have developed a knife that you can depend on when the time arises.
With a partially serrated, 3.75-inch AUS-8 steel folding blade the Trident features a clip point shape that allows for a quicker and deeper puncture area. Coated with Titanium Nitride the blade is then heat treated to ensure it stays sharper for longer and with SOG's patented Assisted Technology deployment system you'll be able to use the Trident with a single hand. At just 3.6 ounces, this folding knife is lightweight and easy to carry and also features a reversible, bayonet-mounted clip so the knife can sit low in your pocket for the most discreet carry possible. For added versatility, the handle has a unique groove which allows the operator to cut anything from paracord to fishing line without having to open the blade.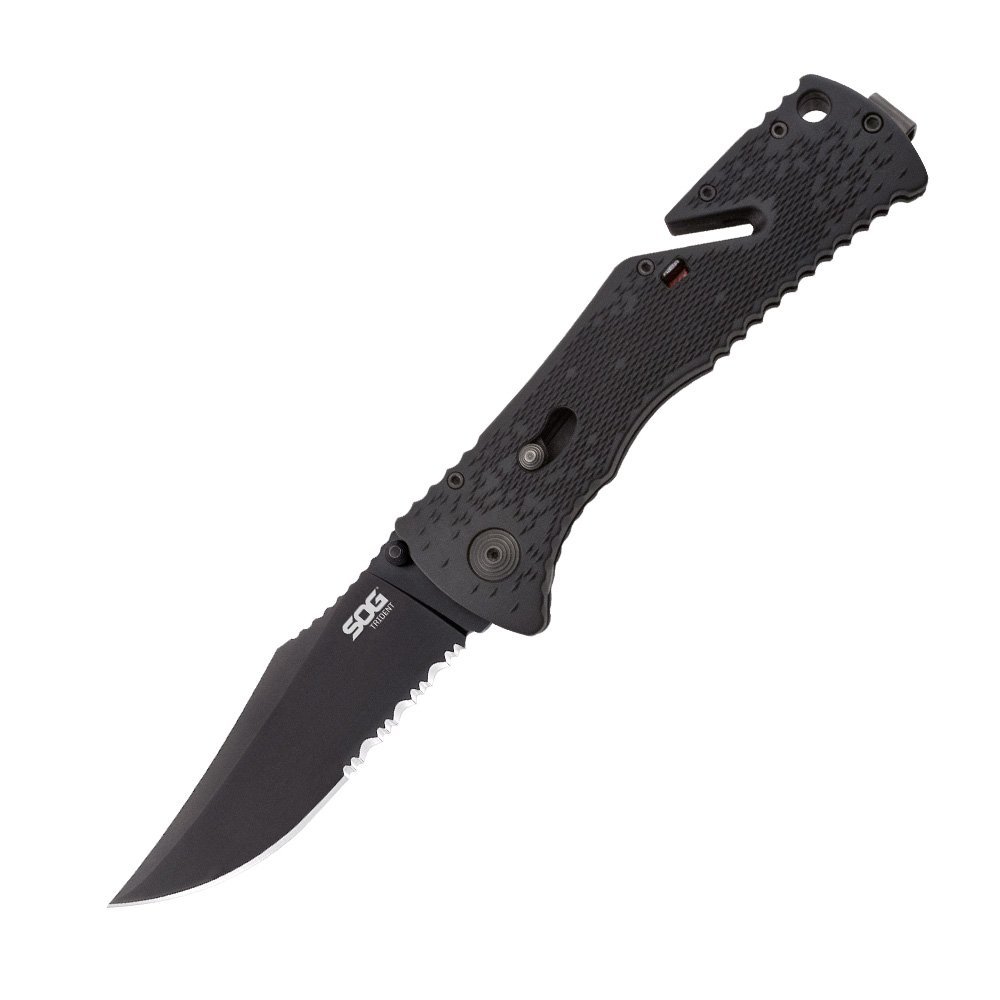 CRKT No Time Off
Columbia River Knife and Tool, CRKT for short, are known for their reliable, innovative products. The Oregon company collaborated with Brazilian knife maker Flavio Ikoma to design the No Time Off pocket folder. It conforms to everything the brand representants and has resulted in a handsome, very solid, heavy-duty knife, for those tougher jobs.
The pocket folder features a CTS BD1 steel 2.99-inch blade and a glass-reinforced nylon handle. To keep things moving smoothly it comes with Flavio's IKBS ball bearing pivot deployment system and patented normal liner lock for added safety. This is a small spring-mounted lever on the liner-lock which prevents unintentionally unlocking the liner. A genuine EDC knife that's as rugged and tough as they come.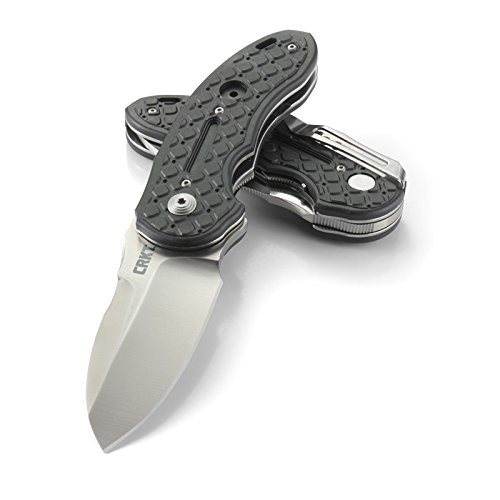 Spyderco Dog Tag Folding Knife
One of the smallest EDC knives in our guide, the Spyderco All-Black Dog Tag Folder has been based on a popular design by knife maker Serge Panchenko. Perfect to carry while camping or at work, the Dog Tag can be hidden on a neck chain and kept close to hand for when you need a handy pocket knife.
Featuring a chisel-ground CPM S30V titanium 1.23-inch blade and handle, the Dog Tag Folding Knife is finished with a stealthy black titanium carbonitride, and measures just 2-inches when closed.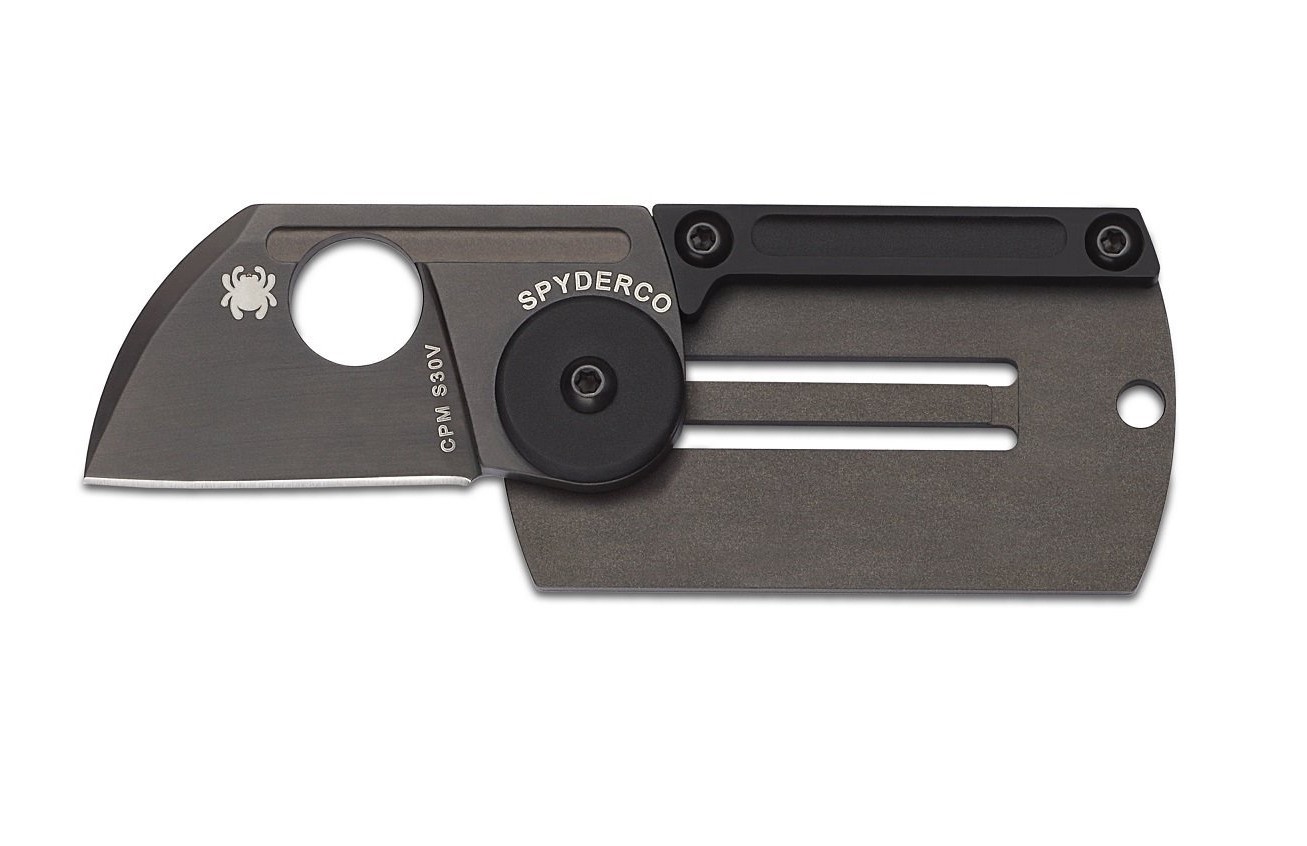 Cold Steel Code 4 Spear Point Folding Knife
Ultra-thin, ultra-light, the Cold Steel Code 4 is an extremely functional utility knife designed to be the only EDC folder you'll ever need to carry.
Weighing just 4.3-ounces, the Code 4 Spear Point won't add unnecessary bulk and with ambidextrous pocket clips and thumb studs, it becomes a versatile EDC knife. The handles are made from hard-anodized 6061 Aluminum and feature Cold Steel's Tri-Ad locking system while the 3.5-inch Carpenter CTS XHP steel blade is polished to a razor sharp edge.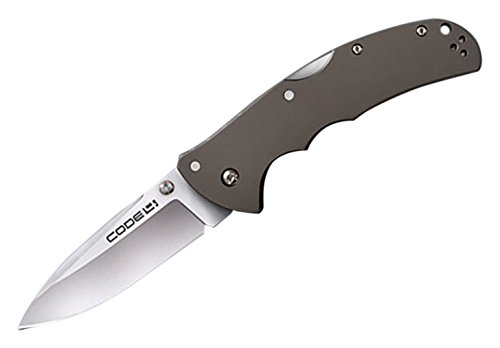 Buck Knives Vantage Force Pro
Rapid blade deployment is another key option to consider when choosing an EDC knife. At a moments notice, you should be able to deploy your blade for important tasks or in a self-dense situation – should it arise. If your blade is slow to open or is prone to sticking then you could be screwed, that's why choosing one with a great mechanism is paramount.
The Buck's flipper facilitates ultra-fast and smooth opening and its tactical design and anti-reflective steel drop point blade makes the Buck a solid choice as a rescue knife or self-defense weapon. The CNC Machined G10 Handle also features a removable, reversible tip-up carry clip to help discreetly carry the Buck on your person.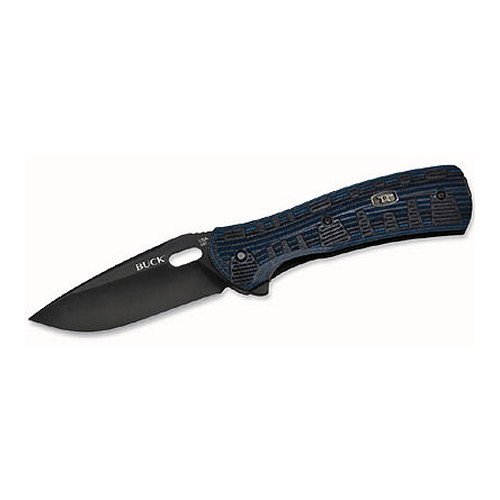 Cold Steel Recon 1 Mini EDC KNIVES
Famous for raising the bar in the knife industry Cold Steel's Recon 1 line of tactical folders are setting a standard that's hard to beat. They're designed to be as tough as nails and will cut like a chain saw. Available with two, three, four and five-inch blades, every aspect of their construction has been over engineered to make them as strong, durable and effective as possible.
The Recon 1 Mini features a three-inch blade made from imported Japanese AUS 8A stainless steel. This undergoes vacuum heat treatment and sub-zero quenching that results in a level of toughness unmatched at this price point. The handle features G-10 laminate scales contoured for a non-slip grip and protects Cold Steel's world-renowned Tri-Ad back locking system. This set-up means you can always depend on the blade to stay securely open, even in the most trying of conditions.

Boker Plus Lancer Knife
The Boker Plus Lancer knife is an EDC knife with clean, simple lines, designed for the purists. A ruggedly handsome everyday carry, the Lancer is designed by Serge Panchenko, built for durability and finished with a masculine modern touch.
The two G10 scales finished in olive green give the Lancer a low profile look but offer superior grip. Made from 440C stainless steel the three-inch blade features a large thumbhole for one-handed opening and a titanium linerlock makes it safe to wield for such a lightweight knife. Weighing just 2.4-ounces, the Lancer Plus is designed to sit low in your pocket thanks to a titanium carry clip and may be the only knife you'll ever want to carry again.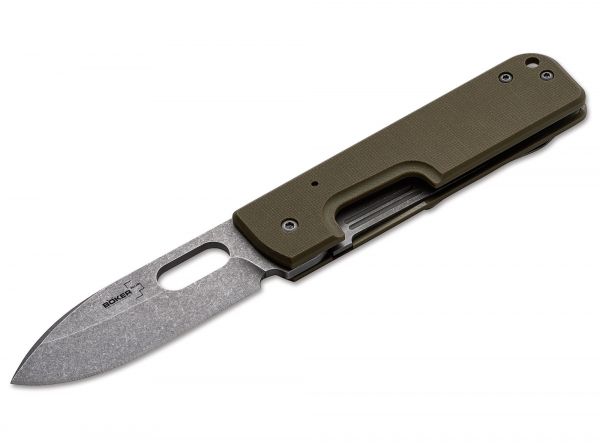 The James Brand Folsom Knife
The James Brand range of blades are possibly some of the best knives made. Just look at the beautifully crafted James Chapter Swell Knife, and you'll understand. To add to the mix of sleek, minimal and design-driven blades, The James Brand have issued The Folsom – a rugged, yet refined everyday carry knife.
Thier first liner-lock knife The Folsom has been designed for the outdoor adventurer in mind. A quick-response knife it is also the brand's first-ever ambidextrous option blade that can be opened with one hand. Available in five colors it packs some serious cutting power from the Carpenter CTS-BD1 steel blade. Chosen for its optimal hardness and corrosion resistance, The Folsom has been counterbalanced for ease of sharpening, because if you own a knife you should be able to sharpen it yourself. The tip up carry style features a reversible clip mount and lanyard hole for multiple carry options, perfect for hunters, campers, and adventurers.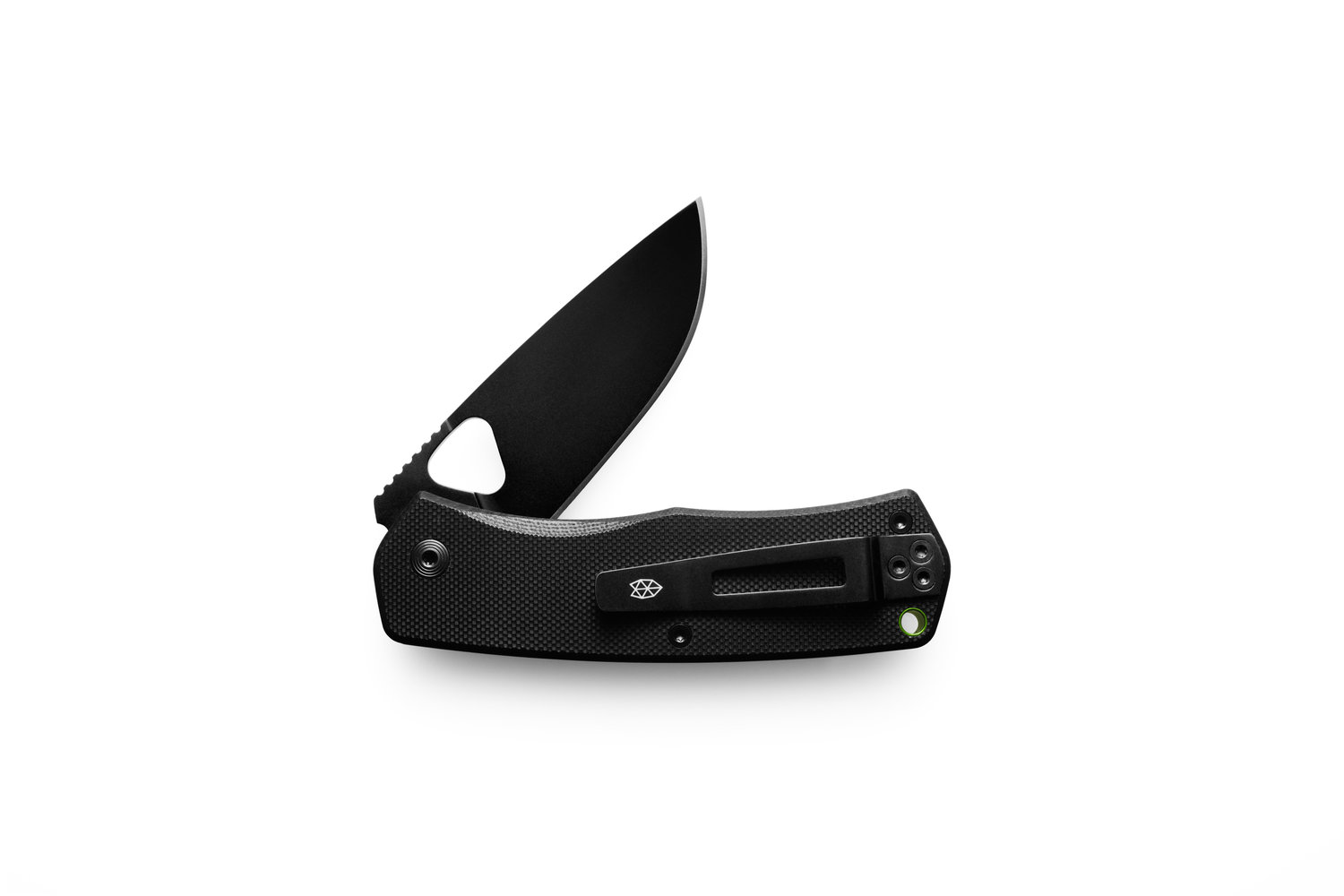 Spyderco Paramilitary 2
Spyderco knives signature leaf-shaped blades and Spyder thumb holes are for those who prefer their EDC knives to stand out. Consistently delivering some of the best pocket folding knives on the market, we felt it only right to include one of their best, the Paramilitary 2.
Made in the USA, the Paramilitary 2 features a G-10 handle with four-way pocket clip and distinct back-mounted liner lock for increased security and safety when in use. The 3.4-inch high-quality CPM S30V steel blade benefits from added surface jimping to both the spine and finger choil for added grip and makes for a very unique looking EDC knife.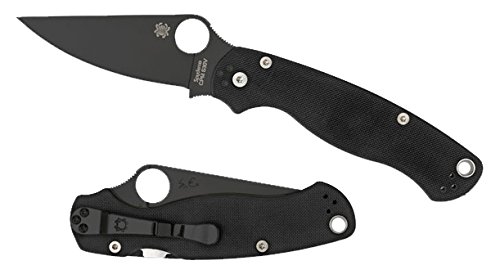 Civilware Pointer Folding Knife
Californian gear manufacturer Civilware is known for creating beautifully crafted hatchets and knives, designed for a lifetime of use. The Pointer Folding Knife is the latest EDC knife from the brand and is a lightweight, non-locking knife perfect for everyday use.
Inspired by some of the very first folding knives the Pointer uses friction to keep the 2.5-inch blade closed and an extended tang to keep it open in your hand. Made from corrosion resistant AEB-L the blade will retain its edge and ease sharpening. The minimal handle made from G10, Titanium, and heat-treated 416 stainless steel is available in three colors and is shaped to aid grip when the knife is being used. Measuring just 5.25 inches long when fully opened this is a knife ready for everyday carry but tough enough to get things done.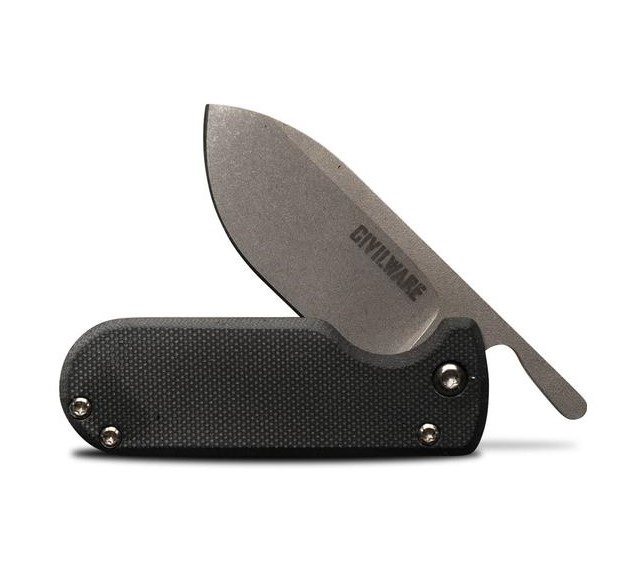 Civilware Clipper Folding Knife
The slim-profile of the Civilware Clipper features a high-end 154CM steel blade and measures 6.75-inches open and 3.75-inches closed. One of the most striking EDC knives on our list this is a solid option for an everyday carry, for any environment. Featuring a full titanium handle, pocket clip, and framelock, Civilware's Clipper Folding Knife also boasts a lock travel stop incorporated into the pivot and an ambidextrous thumbstud that can be found either side of the blade. A discreet carry the Clipper weighs a mere 4.15-ounces and is finished with phosphor bronze washers.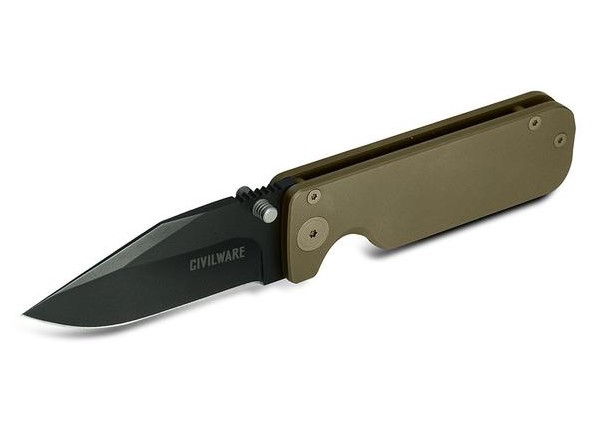 Zero Tolerance Sinkevich Titanium Folding Knife
Hard-use premium and professional blades, Zero Tolerance Knives are built from premium materials. ZT have earned a reputation among their devoted fans as being a "real beast" or even being – proudly – "overbuilt".
The American-made, titanium folding knife is a collaboration between Dmitry Sinkevich and Zero Tolerance. Featuring a reversible four-inch frame lock and deep-carry clip the ZT has been built with a lightweight titanium handle and a high-performance 3 1/4″ S35VN steel blade with a stonewashed and satin finish. A sleek and sophisticated look that, we think, makes for a standout blade on our list of best EDC knives.

Zero Tolerance 0801BW Flipper Titanium BlackWash Knife
The second Zero Tolerance blade on our list of the best EDC knives is the 0801BW Flipper. With an all-metal frame, this everyday carry knife is for the man that likes to know they are carrying something that will get the job done. Solid and heavy, the Zero Tolerance 0801BW Flipper is built like a tank and will cut through almost anything.
Exposed to the elements the titanium frame will begin to wear over time to give it a dignified worn-in look, that only adds to the appeal of this knife. Featuring an ELMAX stainless steel blade, the 0801BW Flipper also boasts an integrated pocket clip, a built-in ambidextrous flipper for fast, one-handed opening, and a built-in frame lock with hardened steel lock bar insert to secure the blade in place while in use.

DPx Gear HEAT/F Knife Triple Black
Dangerous Parts Extreme, known as DPx, have built their gear to survive the worst environments imaginable. Having spent 30 years in conflict zones as a writer and documentarian Robert Young Pelton clearly knows a thing or two about what gear will save your ass in the harshest of environments.
If you're looking for a tactical option when searching for an EDC knife then you won't go wrong with the HEAT/F folding knife. The short 2.26-inch blade is made from Niolox steel that folds into a G-10 grade 5 6AI-4V Titanium handle with a frame lock and ice-breaker on the base. The top edge of the blade also features a built-in bottle opener. To finish off the tactical look, the entire knife is coated with TiCN PVD for extra durability and a striking matte black finish.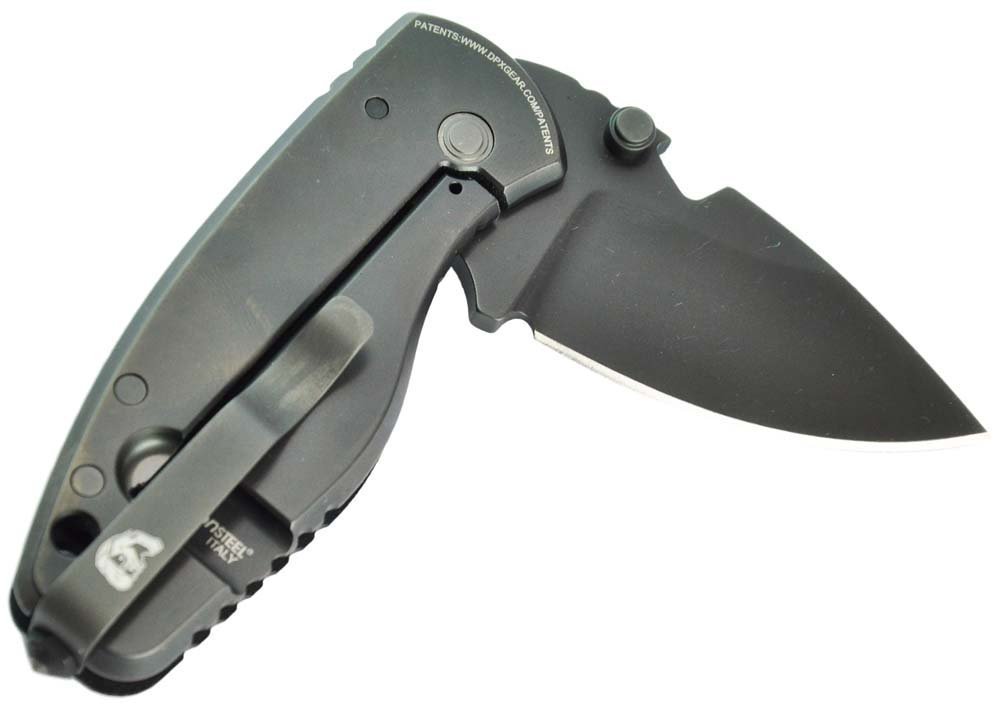 Reate Knives Hills Titanium Flipper
The founder of Reate Knives is a long-term knife enthusiast, and with his background in mechanical design and manufacturing, this has enabled the brand to carve out a loyal following amongst other devotees. Manufacturing the highest quality EDC knives with a variety of innovative designs Reate use the very best steels from America, Germany, and Japan to create top end everyday carry blades.
Reate's Hills Titanium Flipper is a folding design that any knife fan can appreciate. It benefits from a smooth ball-bearing action for easy opening and has a full flat 3.6-inch ground S35VN steel blade. The solid Titanium handle has a wonderful ergonomic shape with milling for improved grip and features a dependable frame lock with steel lock bar insert.