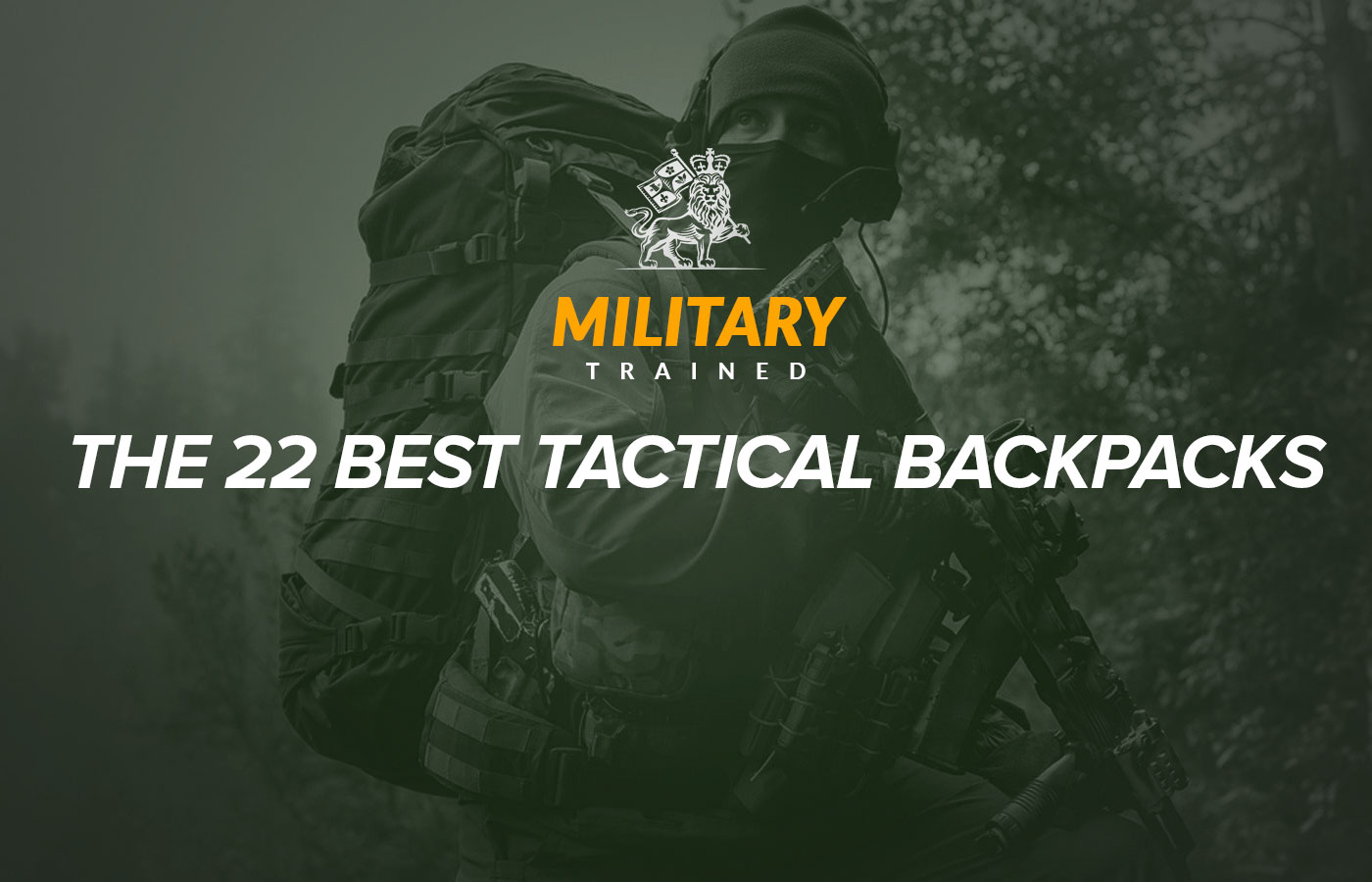 Any old backpack will do if you're out for a leisurely stroll or you need a lightweight carry for the commute to work, but when you're entering a war zone at home or abroad, then you need a tactical backpack, a bag that's going to stand up to the most demanding of conditions. From extreme heats to frozen tundras and every imaginable wet condition in between, tactical backpacks are designed to keep your gear safe and organized. Not just reserved for law enforcement and the military, tactical backpacks can work just as well in a civilian role while on a long-distance hike or during extreme sports and activities. They're the bags that will give you the edge, to carry more, and to help keep you alive.
The Best Tactical Backpacks For The Money
Tactical backpacks are designed with a reduced weight, rugged all-weather materials, high-stress seams, and snag free fabrics. They should provide substantial padding for a comfortable carry when carrying heavy loads, with stability aids such as waist belts and straps – but not too many to catch on foreign objects. A good tactical bag will also feature external loops and D-rings for attaching additional gear to the outside of the pack to increase and customize your tactical options. And because you're likely to be trekking vast distances, having room for one or more hydration bladders is a must, along with external ports for tube systems, radio antennae, or earphones.
So if you have the need to find a more capable backpack then take a scroll through out list of, the best tactical backpacks on the market today. We've chosen each one based on its comfort, design, customizable features and all-weather ruggedness.
Red Rock Large Assault Pack
Pros: A great all round, versatile, low-cost entry pack
Cons: Not as durable as more expensive bags
Starting off our list of the best tactical backpacks is, the Large Assault Pack from Red Rock Outdoor Gear. Although this is the cheapest tactical backpack in our review, it is no less capable than the others and is perfect for any guy looking to shop on a budget or enter the market with a low-cost carry. This tactical backpack boasts MOLLE webbing across the entire front and side panels giving you the perfect platform to add extra tactical gear and accessories to the already large 35-liter capacity. To keep you hydrated there is a concealed mesh compartment in the padded and ventilated back piece that can accommodate a 2.5-liter hydration bladder. Keeping the bag stabilized are adjustable sternum, waist, and shoulder straps with four quick-release compression buckles to reduce the bulk of the backpack. The Large Assualt Pack is available in seven color options and includes additional D-rings on the shoulder straps for more attachment points.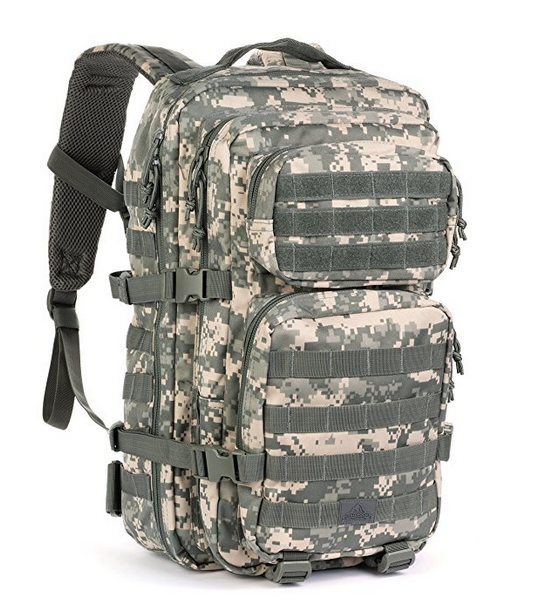 Grey Ghost Lightweight Assault Pack
Pros: Can be stored in larger tactical backpacks
Cons: Lacks the capacity of larger bags
The Grey Ghost Lightweight Assault Pack is designed primarily for special ops when operating without military fabrics is favored. With a double-layer construction with a proprietary diamond pattern, the pack becomes less visible in low-light and with a water-resistant coating will keep your gear dry when the going gets wet. With just a 20-liter capacity, the Lightweight Assualt Pack is designed as an attack bag rather than one for a longer stint at an O.P. With a smaller size it can also be stored in a larger tactical backpack. As well as the main compartment the Assualt Pack also features a side entry front pocket and modular webbing for attaching additional items to the exterior of the bag.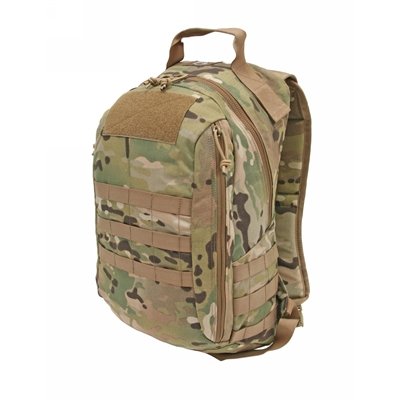 Hazard 4 Evac Plan-B Sling Pack
Pros: Constructed from DuPont 1000D Cordura
Cons: Poor inner compartment organization
Featuring a single ambidextrous padded shoulder strap, the Hazard 4 Evac Plan-B Sling Pack is a slim, across the body bag. Because of its small size, it's great for getting in and out of tight spaces and is designed to swing forward across your body for easy access to emergency gear. With a 17.5-liter capacity, this tactical backpack is perfect for quick recon missions or treks and boasts MOLLE webbing on the front and sides. Just mount a load of MOLLE Straps, and you can quickly expand your carry whatever the operation involves. The integrated storage pockets can accommodate a three-liter hydration bladder, and compression straps keep everything secured. Although the Plan-B has just one strap, there is an additional clip-on stabilizer strap for when the going gets tough, or a quick ex fil is on the cards.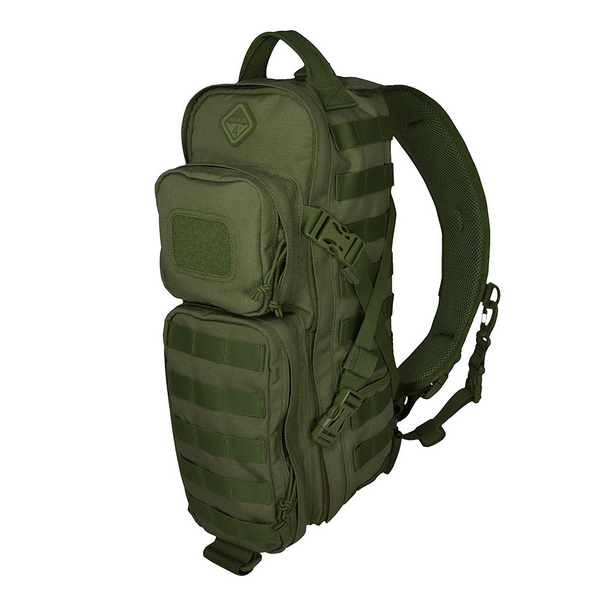 5.11 Rush Moab 10
Pros: Concealed weapon pocket
Cons: Lacks a waist strap for additional stability
Another tactical backpack on our list that features a single across the body shoulder strap. As a Mobile Operations Attachment Bag, MOAB for short, this compact 18-liter daypack is made with tactical use in mind. The ambidextrous strap makes for a comfortable carry and comes with a quick-access zippered communications pouch and additional headphone port. Rear TacTec pockets offer covert storage for sensitive information or a sidearm, while the dual-compartment clamshell opening provides ample storage. Externally the MOLLE webbing allows additional options to carry gear and accessories and using the 5.11 Tier System you can attach the Rush MOAB bag to any of 5.11's RUSH line of packs. Other features include a 1.5-liter hydration pocket with pass-through port and a fleece-lined top pouch for valuables.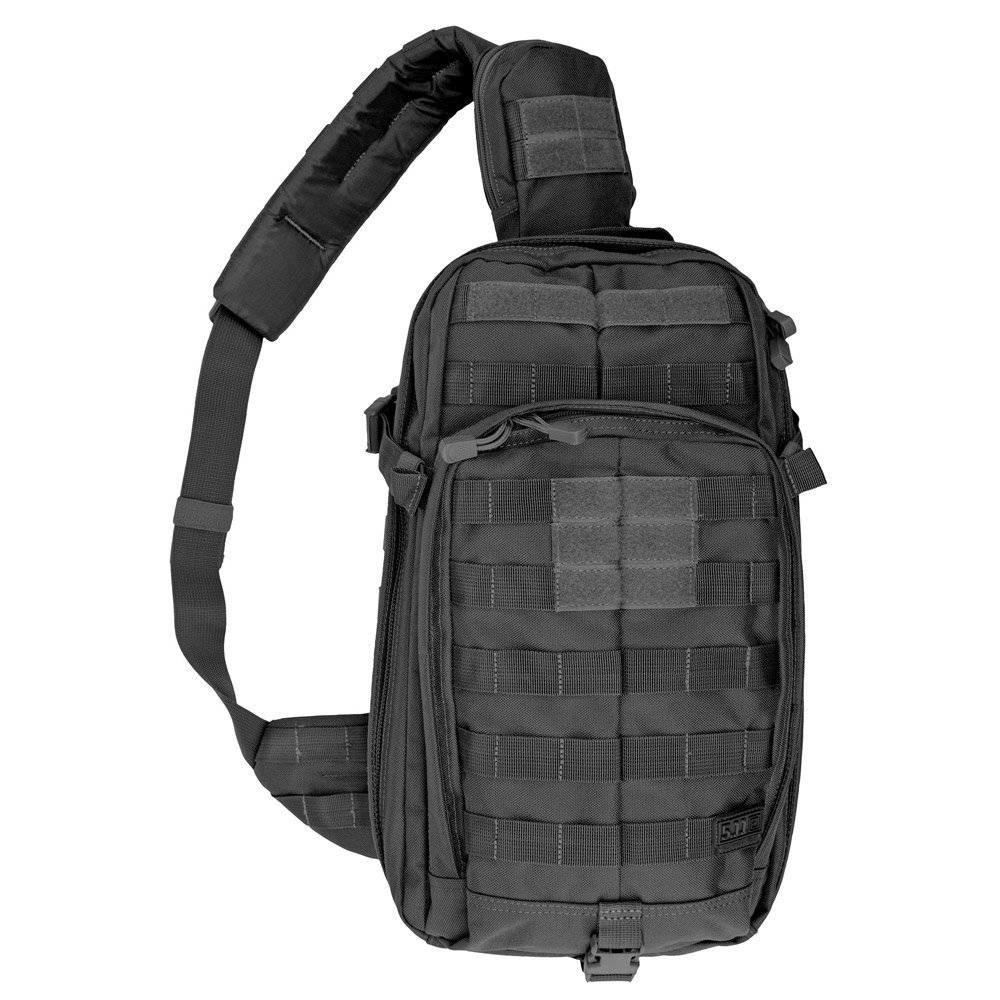 Blackhawk Cyane Dynamic Tactical BackPack
Pros: Tear-resistant 500 Denier Nylon
Cons: Side pockets lack protection against the elements
The Cyane Dynamic Tactical Backpack is designed with an unusual beavertail style front to stash irregularly shaped gear. Constructed from tear-resistant 500 Denier nylon, the Cyane is a low-profile day pack that can be configured as a standalone pack or converted as a MOLLE compatible bag that can attach to armor carriers and vests. Featuring an open-air middle storage compartment, front zipper pouches, and a rear compartment there is plenty of capacity to store helmets, bedrolls, and jackets. For stability and comfort, there is a sternum strap and removable padded back piece as well as the ability to carry a three-liter hydration pouch.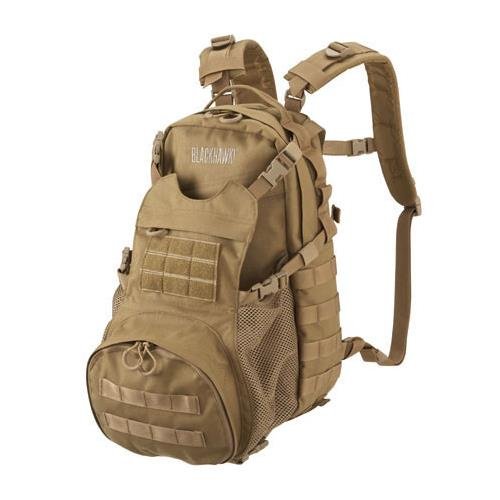 Maxpedition Falcon-II Backpack
Pros: Triple coating of polyurethane for water resistance
Cons: The back ventilation system isn't great
Super sturdy, the Maxpedition Falcon II Tactical Backpack is designed to eliminate any pressure points while being carried by using a combination of foam-padded shoulder, waist, and sternum straps. Constructed from 1050 Denier nylon, the Falcon-II is tear-resistant and boasts military grade nylon webbing for straps, handles, and modular attachment points for added strength and functionality. Across the front, there is a Y-shaped compression strap with quick-release buckles for easy access to the Dual-directional zippered main compartment. The rear pocket can hold two, three-liter water pouches with tubing feeder loops along the shoulder straps. The Falcon-II is finished with a triple coat of polyurethane for water resistance and a final coat of DuPont Teflon Fabric Protector to repel the elements.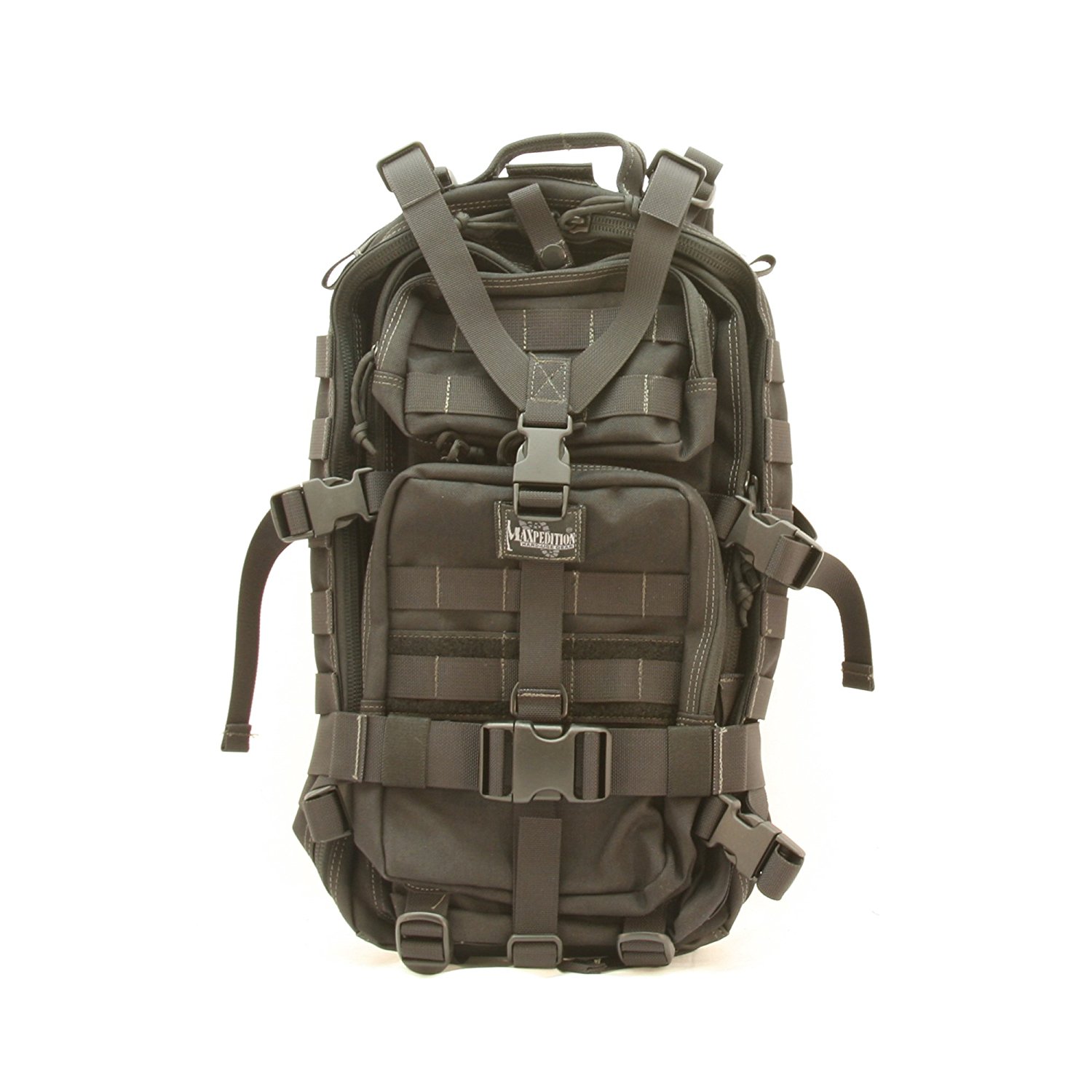 Condor 3-Day Assault Pack Army Combat Backpack
Pros: Large cargo capacity
Cons: Carries big with minimal compression options
With almost 50-liters of storage space, the Condor 3-Day Backpack has plenty of capacity, with a total of seven compartments, that can easily carry enough gear and supplies for a week long operation. Made from 1000 Denier nylon the Condor will keep the weather away from your gear and stand up to the toughest environments and treatment. The pack includes two main compartments that feature internal gear compression straps and sorting pockets, two side pouches, and various external zippered pockets. With room to carry two three-liter hydration bladders, the shoulder straps boast integrated tubing ports to supply the water as well as D-ring attachments and horizontal and vertical webbing.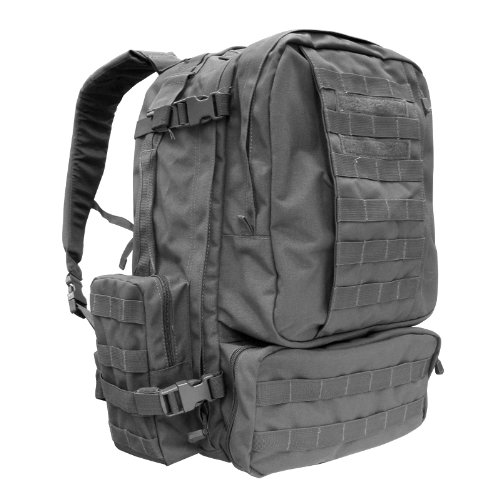 Maxpedition Vulture II 3-Day Backpack
Pros: Rugged construction, light weight
Cons: Lack of internal organization pockets
The Vulture II is the second Maxpedition bag on our list of the best tactical backpacks and can carry a bountiful 35-liters of gear. Carrying the load comfortably couldn't be easier with padded shoulder and waist straps that also tuck away when the bag isn't in use. Across the front and sides, the Vulture II features PALS webbing that is compatible with MOLLE accessories for added customization. With three large compartments and abrasion-resistant bottom, the 3-day backpack also includes a front zippered pouch and Y-shaped compression strap to secure and reduce the size of the bag.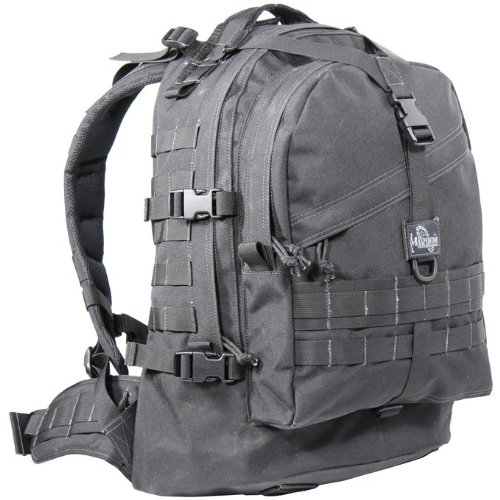 Vanquest JAVELIN 3.0 VSlinger
Pros: High-visibility 210-D ripstop nylon interior helps you find things in low-light conditions
Cons: Sling shoulder strap is fixed
This sling shoulder strap bag is a versatile pack that can just as easily carry around a laptop and your urban EDC as it can any tactical gear. Available in left and right shoulder models, the Vanquest JAVELIN 3.0 VSlinger is designed to compartmentalize all your gear into easy access compartments. With over 30 to choose from, including two hydration pouches and a padded laptop sleeve you'll never be short of storage space. Externally there are side pockets with plenty of PALS loops to expand operational capabilities, heavy-duty neoprene padded handles, and oversized S-shaped zipper treads. Constructed from 1000-D Mil-grade Cordura fabric, the JAVELIN is finished with a water-repellent Teflon fabric protector to keep your gear dry. One of the most organized tactical backpacks on our list.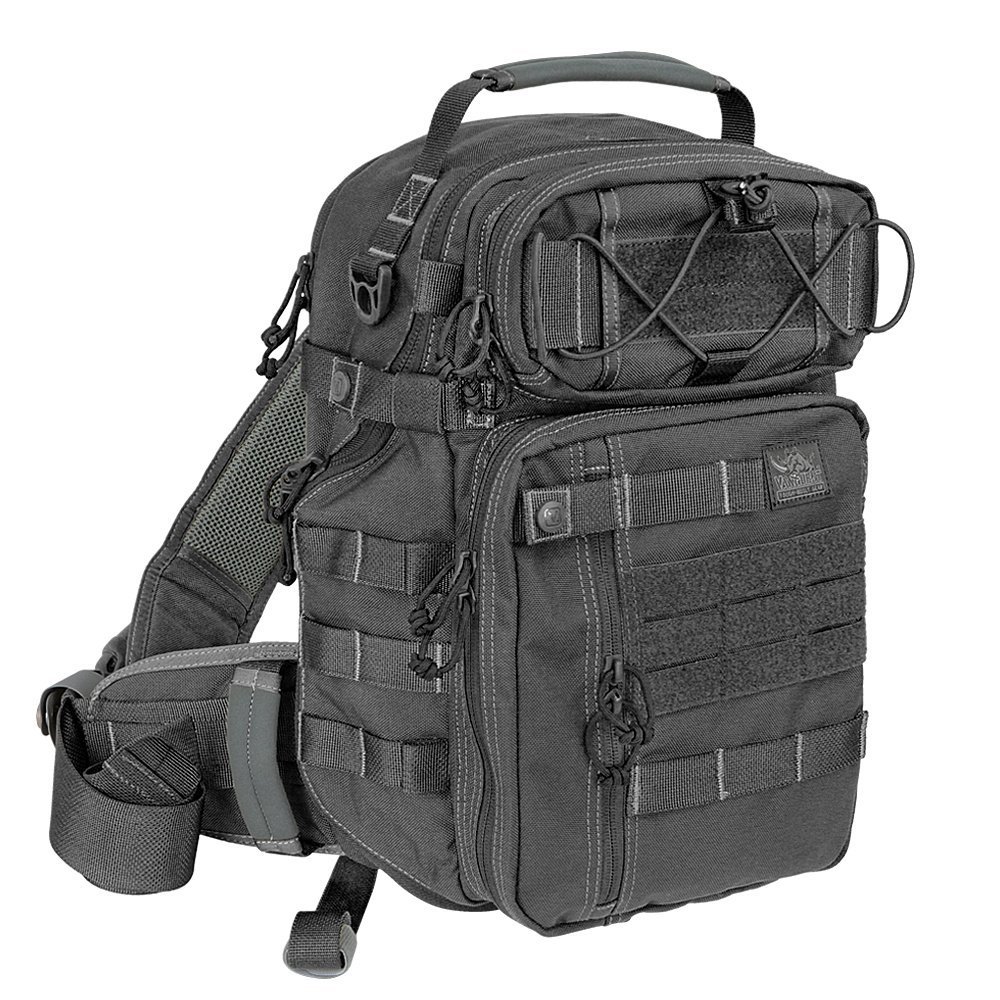 5.11 Tactical Rush 72 Backpack
Pros: Wide straps for comfort with added mounting points
Cons: Sternum strap isn't adjustable vertically
Another of 5.11's RUSH line of packs the 72 Tactical Backpack is designed for a 3-day stint in the wilderness or on duty. With a large front packing compartment, large dual-zipper rear compartment, and interior organizer pockets the 72 makes stashing and retrieving your gear in a rush quick and easy. Constructed from 1050D nylon, 5.11 finish the pack with a PUx2 coating inside and out, this increases the durability of the material and will stand up to the harshest treatment and weather. There are an additional two side zipper pockets each capable of holding a two-liter water bottle and include small item organization pouches within. For carrying, there are adjustable waist straps with MOLLE webbing and on the underside of the backpack are lashing straps for bedrolls or other accessories.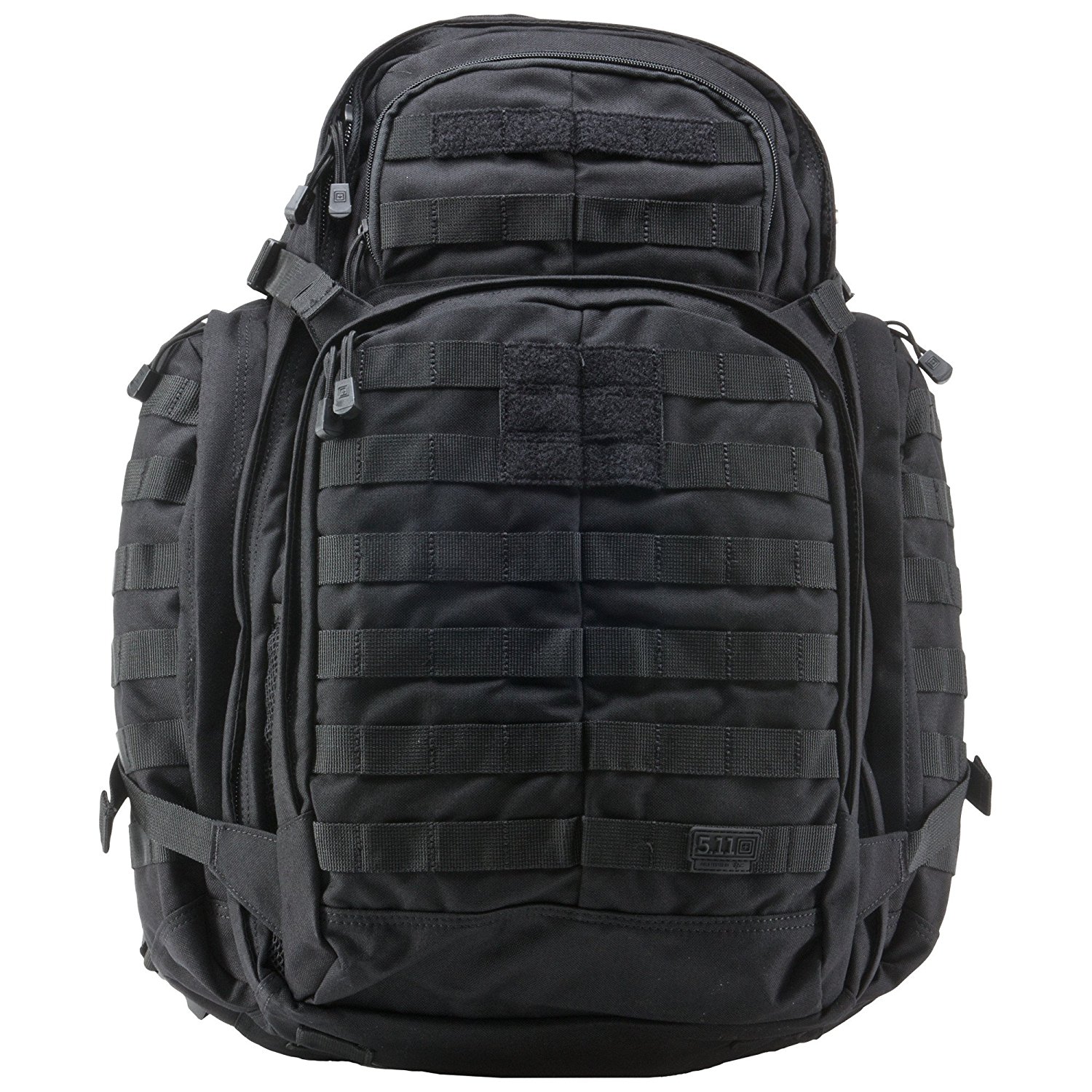 Sandpiper of California Long Range Bugout Backpack
Pros: It's HUGE!
Cons: Some zippers are hard to operate
The Long Range Bugout Backpack from Sandpiper of California has a huge 92-liter capacity to carry tactical gear for days on end. With a reinforced aluminum backstay, optional shoulder harness, a padded lumbar area, and mesh-lined back, the Long Range is designed for comfort on long treks. Constructed from 1000 Denier Cordura abrasion-resistant nylon and multiple compression loops, tie downs, and attachment points for equipment, this tactical backpack is a fully capable operations companion. Add to that an expandable main compartment that can handle all of your hydration, communication, and organizational needs and you soon start to see why this pack makes sense, especially at this price point. Externally there is a front organizer compartment and webbing so you can mix in your MOLLE / PALS pouches to fully customize the pack to your specific needs.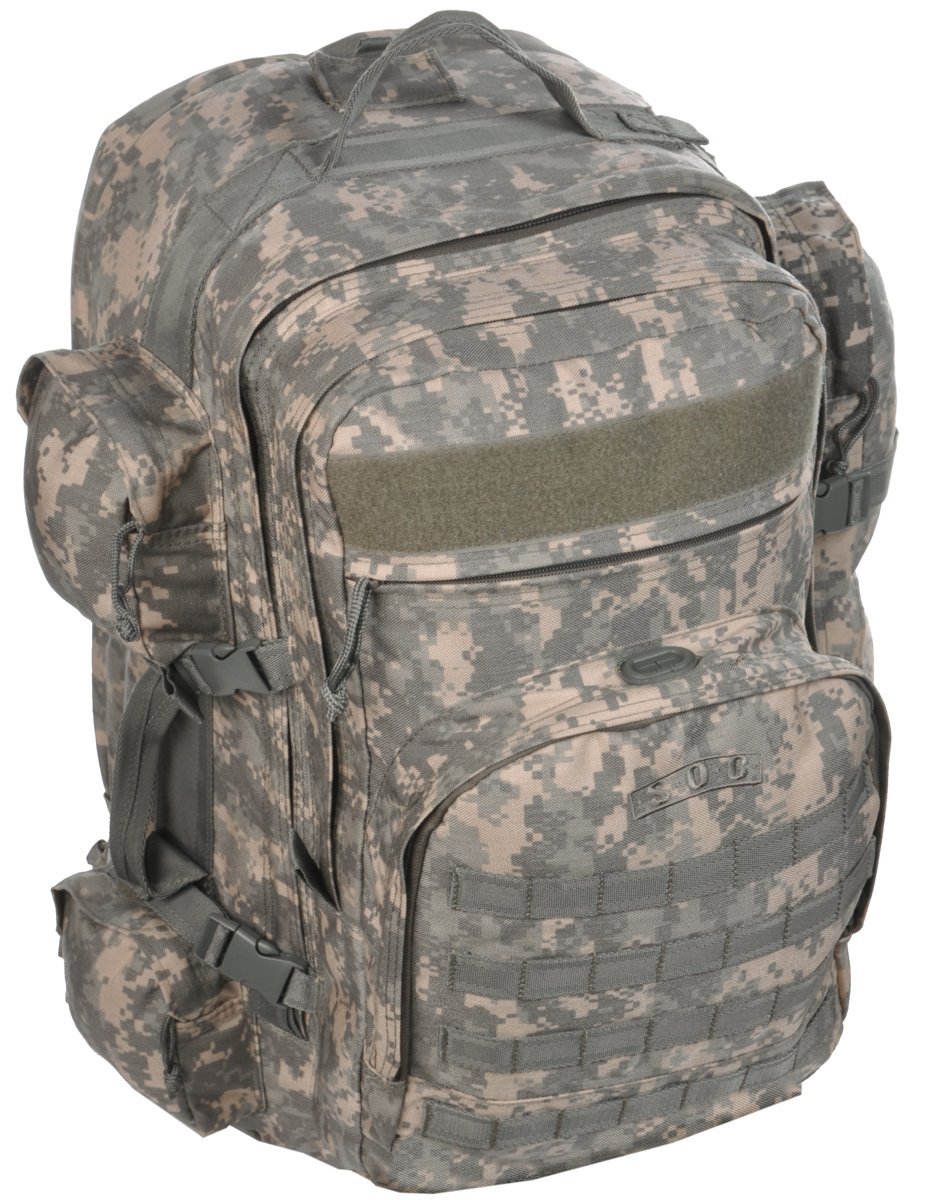 Spec-Ops T.H.E. EDC Pack
Pros: Looking for a smaller tactical backpack, but don't want a sling pack, then choose this
Cons: Straps may come up tight on larger guys
One of the smaller tactical backpacks to feature on our list, the Spec-Ops EDC Pack is designed for short operational stints or hikes and will carry smaller everyday carry gear. With 22-liters of capacity, externally there is plenty of MOLLE webbing on the front, sides, and bottom to expand your options. With a modular design, the EDC pack is compatible with standard hydration systems and made from 1000-Denier water resistant materials. Available in 14 color variations there is a choice of bag to suit any tour, wherever you land in the world, and for comfort, an MTX shoulder harness system and removable two-inch waist belt will help with the stability of the bag. Multi-purpose, the EDC Pack can be used as a training companion or communications pack, with dual external ports that can be used for hydration hoses or radio antennae.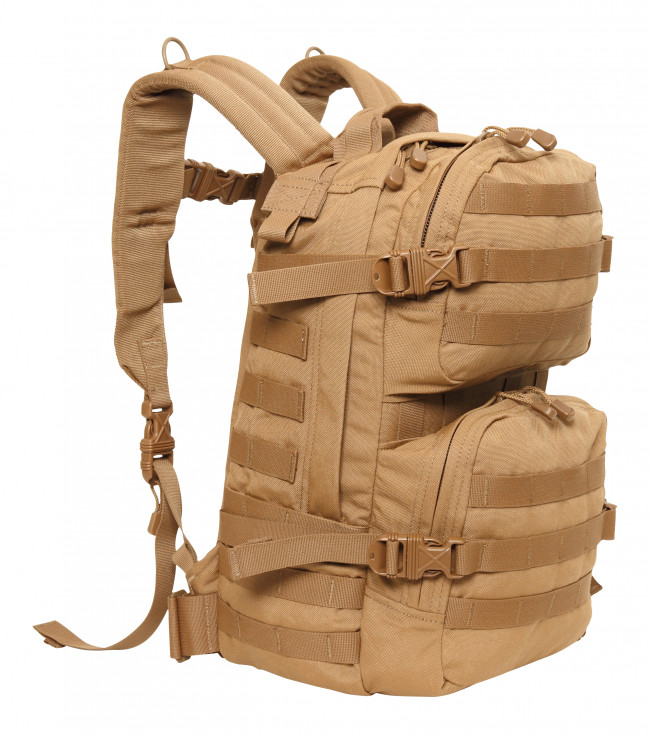 Blackhawk S.T.R.I.K.E. Cyclone Pack
Pros: Soft-shell back to help control body temperature
Cons: Could benefit from ridged back panels
Made from a heavy duty water-resistant nylon, the Blackhawk S.T.R.I.K.E. Cyclone Pack is designed to withstand monsoon weather. With a 30-liter capacity, the Cyclone features eight rows of external webbing to add to your load out and with side compression straps and a durable rubber lift handle this tactical backpack is highly portable and comfortable to carry. For hydration on the go, the pack also includes a reservoir made with Microban antimicrobial technology that can hold 100-ounces of liquid with an integrated bite valve and tube system housed in a weather-resistant casing. With a high-volume main compartment, the Cyclone is equipped with a wide reinforced waist belt, adjustable sternum strap, and contoured padded shoulder straps. With all that potential load to carry there is a ventilated soft-shell back to help control body temperature.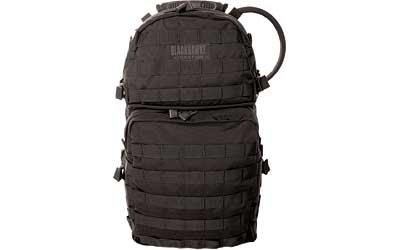 5.11 Tactical All Hazards Prime Backpack
Pros: High-visibility orange lining to help signal emergency responders.
Cons: No side pockets
By now you may have realized that 5.11 are the experts in tactical backpacks, with no less than three featuring on our list. With a 28-liter capacity, the All Hazards Prime Backpack is a no frills tactical backpack that is designed with just the right amount of storage and features that a military-grade pack offers. Internally there is a full-zip front and rear compartment that boast a padded laptop sleeve and hydration storage system and internal organization with webbing and tear our-mesh pouches for medical supplies and tactical gear. Externally all sides of the bag feature MOLLE webbing and compression straps, and on the front, there is a middle shove-it pouch for expandable storage. In an emergency turn out the front clamshell compartment to display a high-visibility orange lining to help signal emergency responders.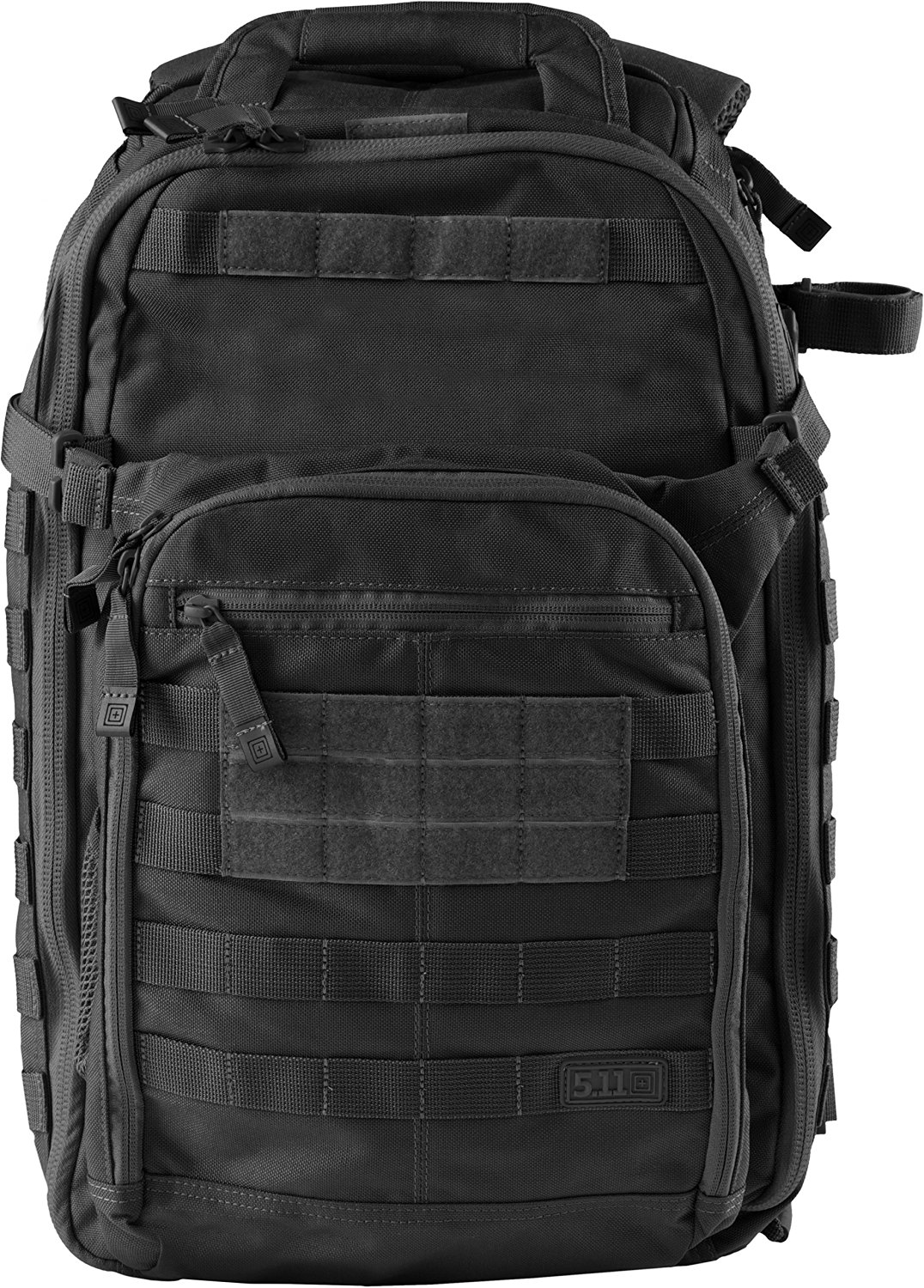 Spec-Ops T.H.E. Tactical BackPack
Pros: Compatible with other SPEC-OPS systems
Cons: Could benefit from some minor organizational sew-ins on the two outer pockets
With over 40-liters of high-capacity carry, this Spec-Ops tactical backpack can carry a large load but remains portable. Made with 1000-D high-tensile Cordura nylon, the pack boasts a heavy-duty reinforced drag handle with a double-layer top to ensure durability and to reduce any stress across the seams. The pack comes with a removable two-inch padded waist strap, fully-covered weatherproof bag, several adjustable side compression straps, and external access ports for headphones or hydration hoses that feature weatherproof flaps to keep any water out.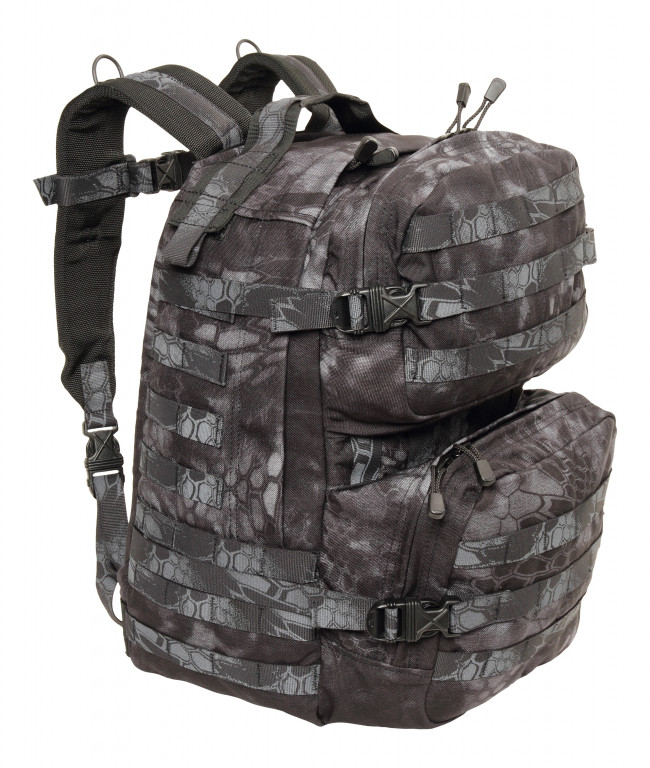 Eberlestock Halftrack Hunting Pack
Pros: Hidden, quick access rain fly
Cons: Higher price could put some off – but you can't skimp on quality
The Halftrack is a tall bag intended for carrying a 35-liter load over long distances. Designed for comfort this tactical backpack boasts a plastic frame sheet, plenty of support pads, a wide waist belt, and large shoulder straps to distribute a serious load evenly. Externally there is an assortment of PALS compatible webbing, a Velcro badge attachment, a tall zipper front pouch, and long pockets either side with room to carry trekking poles or dual hydration pouches. For wet weather treks, there is a rain cover hidden in the bottom compartment that pulls out to cover the bag and even over a weapon that's being carried.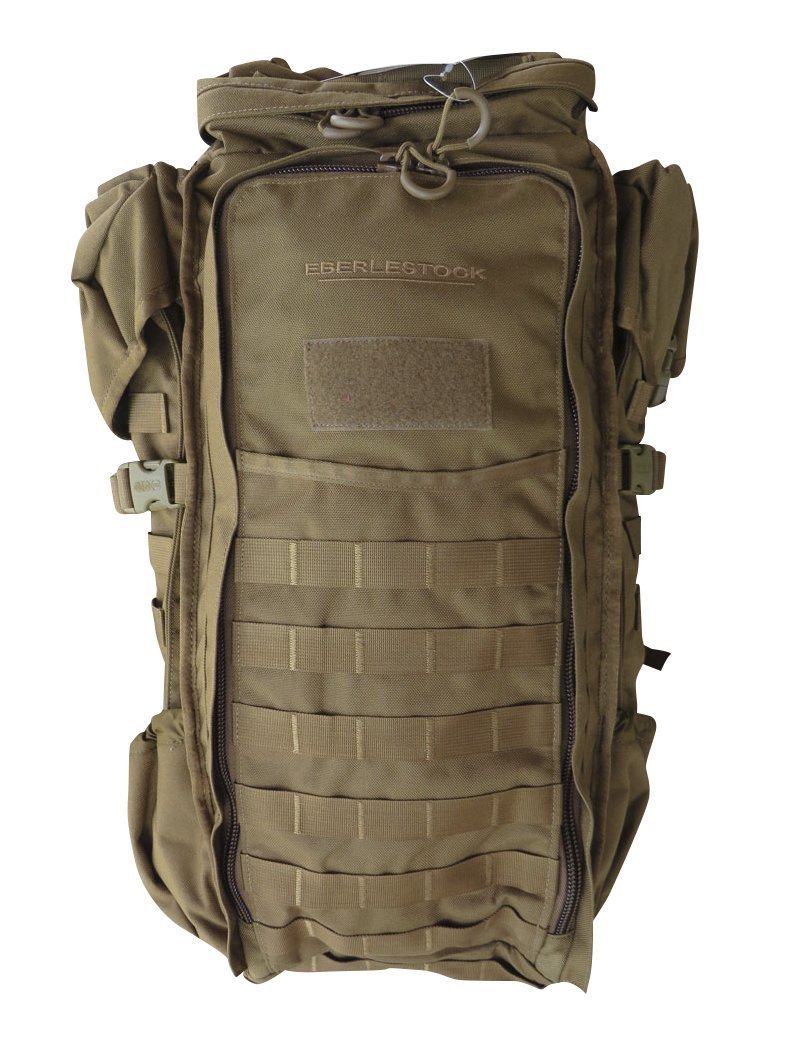 TRIPLE AUGHT DESIGN FAST Pack Litespeed
Pros: Over 90-inches of removable paracord
Cons: Small capacity at this price bracket
Made with integrated MIL-SPEC materials, the Triple Aught Design FAST Pack Litespeed is designed to maintain a high tensile strength and to resist rips, wear, and tear. A great 1-day tactical backpack, the Litespeed has a 22-liter capacity, ideal for essential everyday carry. The pack is comfortable to wear thanks to a mesh ventilation back panel and shock reduction foam padding along the back and shoulder straps. Externally there are six rows of MOLLE straps to expand and customize your gear as well as a top pocket with a hydration tube port for carrying water. In an emergency, the Litespeed also includes 96-inches of removable paracord that can be used in any sticky situation or for securing extra tactical gear.
GoRuck GR1 Rucksack
Pros: Authorized for wear in Army ACU uniforms and in all equivalent uniforms in all the service branches
Cons: Straps come up short on taller, larger guys
A minimalist 21-liter backpack, the GoRuck GR1 can be carried from office to operational tours at the blink of an eye. Made from Special Forces-grade material, the GR1 benefits from a lightweight 1000 Denier CORDURA to add durability and strength, proven to thrive in war zones. Exterior features include a covert bombproof laptop compartment next to your back that can carry laptops up to 15-inches. A removable, hard plastic frame sheet stabilizes the bombproof laptop compartment but also allows you to carry more weight comfortably, eliminating the need for a waist or sternum strap. There are three rows of external and internal MOLLE webbing letting you customize the GR1 how you want and three interior pockets: one large elastic pocket, one large mesh zippered pocket, and one small go-to zippered pocket. Outside there is a front slant pocket that provides quick access to keys, snacks, and other small items and under the top handle is an exit port for a hydration bladder tube.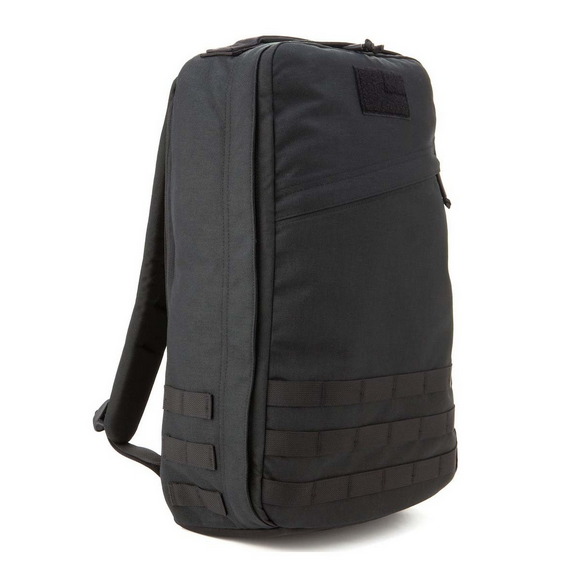 Kifaru International Urban Zippy
Pro: Built for comfort
Cons: No MOLLE /PALS loops
The Urban Zippy from Kifaru is based on their tactical Zippy, this version designed more for the everyday carry market. With a clean, minimal design, the bag is intended as a 1-day tactical backpack for short day trips and quick assaults behind enemy lines. Rather than using MOLLE loops or PALS webbing, Kifaru has opted for bungee straps for securing gear and accessories to the exterior. There are added bottle pockets on the side doors, and compression straps are center adjust and removable. The bladder pocket will even double up to hold a 15-inch laptop in a padded case. Under the top lid, there are mesh pockets as well as on the inside of the side doors for the organization of your gear.
Mystery Ranch 3 Day Assault Pack
Pro: 500D CORDURA fabric and YKK zippers
Cons: Strap lengths are quite long
The Mystery Ranch 3-Day Assault Pack has internal compartments that can hold up to three hydration bladders and several smaller tactical items such as radios and exterior antennae. Access to all this gear is made easy with an innovative Y-shaped three-zip design, unique to the 3-Day Assualt Pack. To customize your gear storage further, Mystery Ranch has added three rows of MOLLE webbing both internally and externally, as well as side compression straps to minimize bulk. Carrying all this weight is made more comfortable with contoured, padded shoulder straps with an additional padded waist belt which can be stored in the base of the pack when not in use.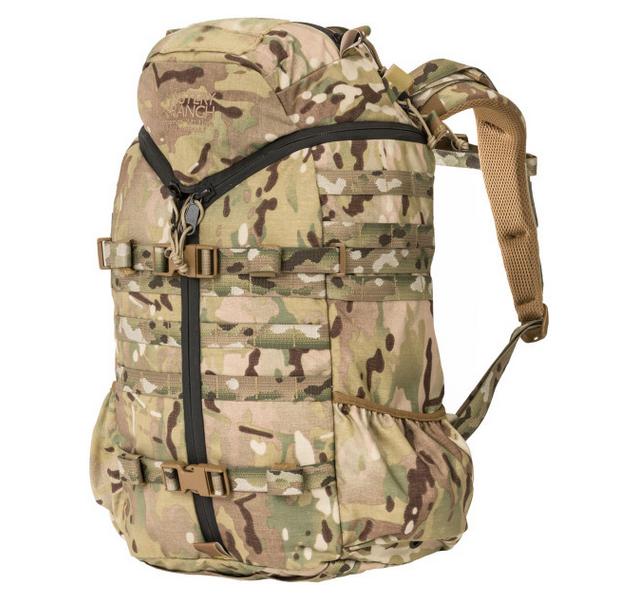 TRIPLE AUGHT DESIGN FAST PACK EDC
Pro: Gel-cushion ventilated padding
Cons: Too many fiddly pockets
The second offering from Triple Aught Design on our list of the best tactical backpacks, and just like the smaller Litespeed, the Fast Pack EDC is constructed from MIL-SPEC materials for rugged protection against rips and tears. The Fast Pack is also full of hidden compartments, to carry everything from sensitive gear to bulkier items, as well as an open-air shove-it pouch to carry gear such as a collapsible shovel. There's plenty of PALS webbing to accessorize your load out and with a 30-liter capacity, the Fast Pack EDC can work as both a day pack and survival pack. For comfort, there is a removable cushioned aluminum back panel that also gives the backpack rigidity and ergonomic shoulder straps and removable waistband to add stability.
Mystery Ranch Crewcab BVS
Pro: Adaptability and works well with body armor
Cons: Price point and designed for a specific roll
The CREWCAB tactical backpack is a chameleon of the military pack world. It's a variable-capacity bag that can be compressed down into a low-profile 30-liter pack or expanded to an amazing 82-liters. Not only can it carry EOD gear, Pelican cases, robots, Load Cells, and ammo cans it can accommodate up to three 100-ounce water bladders. The NICE Frame adds comfort and stability to the heaviest loads, and the Bolstered Ventilation and Stability (BVS) system increases the balance of the pack over armor. The Mystery Ranch Crewcab BVS is designed for a lifetime of hard use.