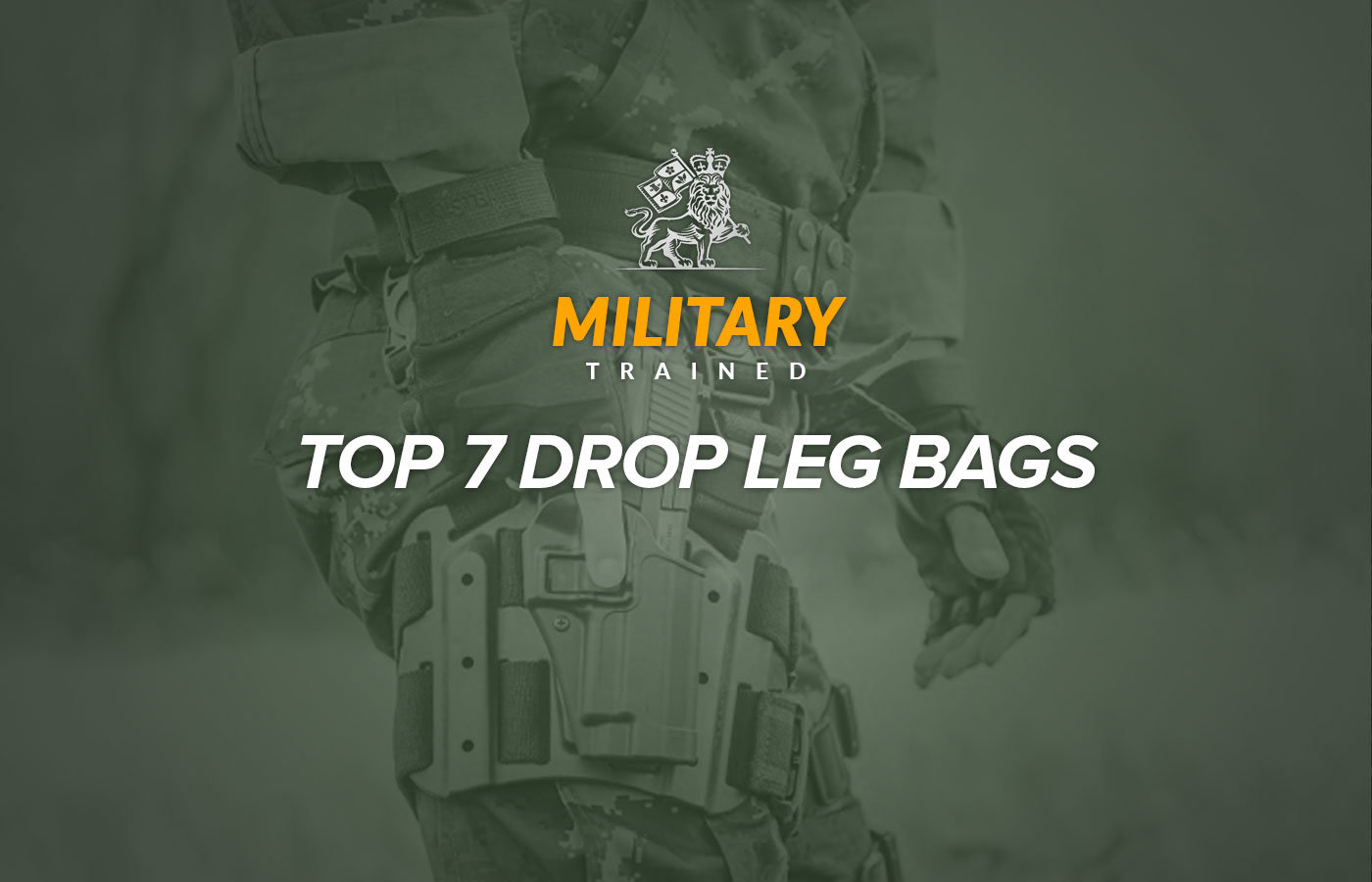 If you've never used a drop leg bag before, you've been missing out. They're great for storing everything you need to carry with you in a comfortable and convenient way. Having everything with you in one place makes it easy for you to ensure you can reach whatever you're looking for quickly and easily, no matter what it is you're carrying with you. They're versatile enough to accommodate most things that you might want to take with you when you're on the go.

But which one of the many drop leg bags on the market should you purchase? There are so many of them out there and the one that's right for you will depend on what your needs are and how you plan on using your drop leg bag. We're going to look at the 7 top drop leg bags on the market, assessing what's good and bad about each of them so that you can make a fully informed decision.

1. LarKoo Military Tactical Drop Leg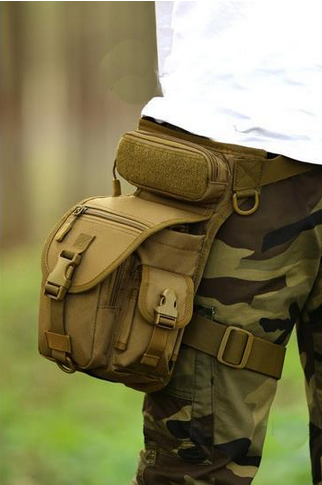 The LarKoo Military Tactical Drop Leg offers plenty in the way of convenience, as well as a quality structure and top materials. There's an array of compartments on offer, providing real versatility.

Pros

This is a very good option for anyone on a budget, and despite the relatively low price tag, it does all the fundamental and important things correctly. It's versatile, durable and easy to use.

Cons

The main downside that people have found after using this LarKoo bag is that it can be a little uncomfortable to wear if it's been worn for long periods of time.

2. Jueachy Tactical Drop Leg Bag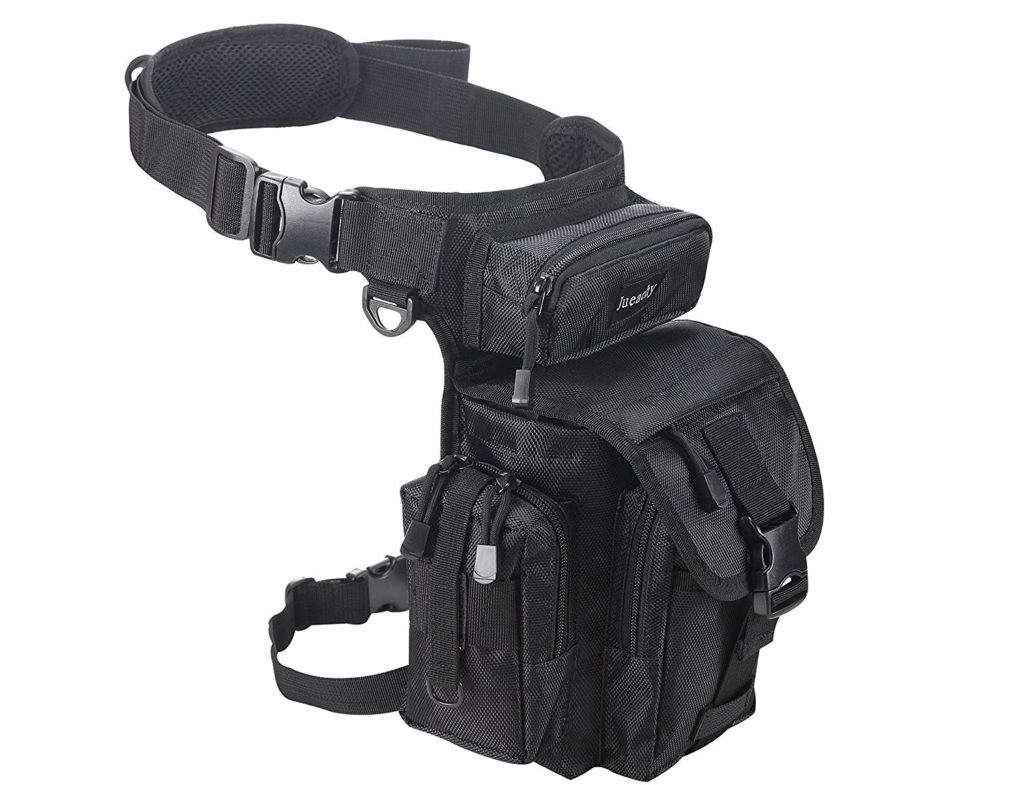 This Jueachy Tactical Drop Leg Bag has a large capacity, as well as a breathable design that aids comfort while in use. It can be used in a wide variety of ways and is particularly popular among cyclists.

Pros

Despite being a very large bag that can contain a lot of stuff when you're out and about, it's also very comfortable to use. It's been designed with human use in mind and comfort is optimized to a level not found in many other bags on this list.

Cons

Some people have complained about the buckle breaking after some usage, but this seems to be a minority problem so won't affect most people.

3. Entsport Waterproof Drop Leg Bag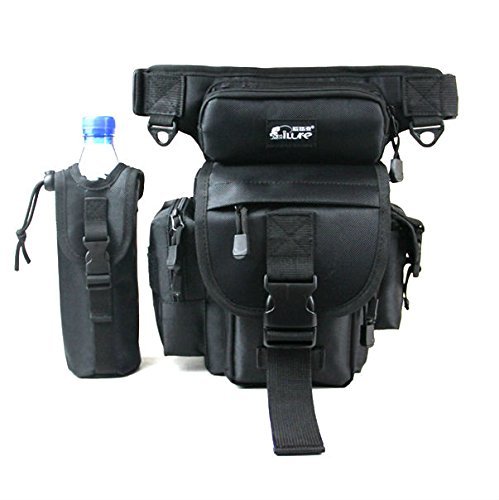 This Waterproof Drop Leg Bag from Entsport is all about durability and functionality. It's a tactical bag with a simple design, and it all comes with a strong 90-day unconditional return policy.

Pros

The security, durability and functionality offered by this Entsport back is certainly impressive. It's clearly been designed for heavy use when hiking, climbing, biking or doing pretty much anything else outdoors.

Cons

It might not be for everyone because of this size of it. Smaller people might find that it's a little too bulky and gets in the way, but this probably won't be an issue for many people.

4. Seibertron Waterproof Tactical Drop Leg Bag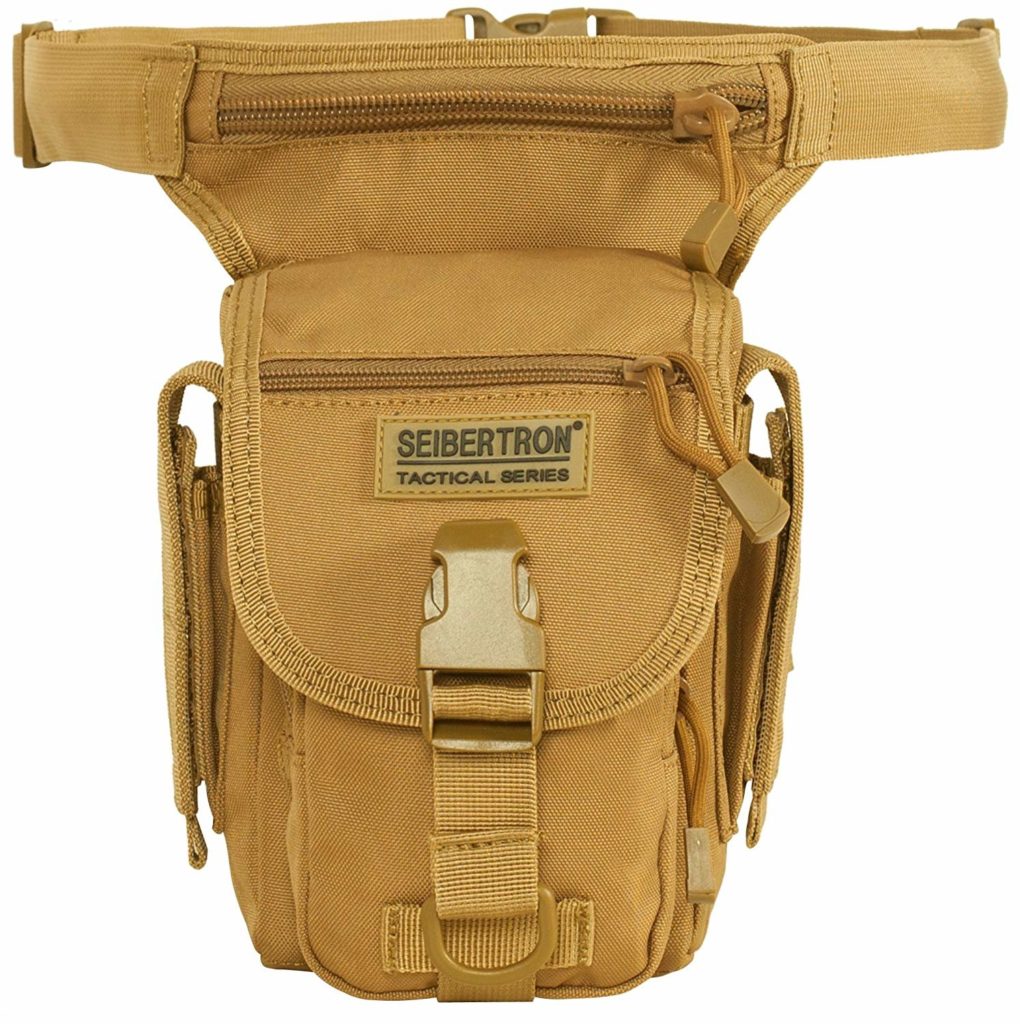 Seibertron have focused on creating a versatile drop leg bag with this product. It's noted as being good for airsoft, but it's also become popular with motorcycle riders who need that extra storage when on their bikes.

Pros

This is a very well made bag that's waterproof and very durable. So if you're going to be spending time out in nature and you need a bag that you can rely on, this is definitely a good option.

Cons

Some people argue that the space on offer isn't as generous as it could be, so it might not be for every requirement. The adjustment straps on the bag can be a little fiddly and frustrating to use occasionally too.

5. Condor Utility Drop Leg Bag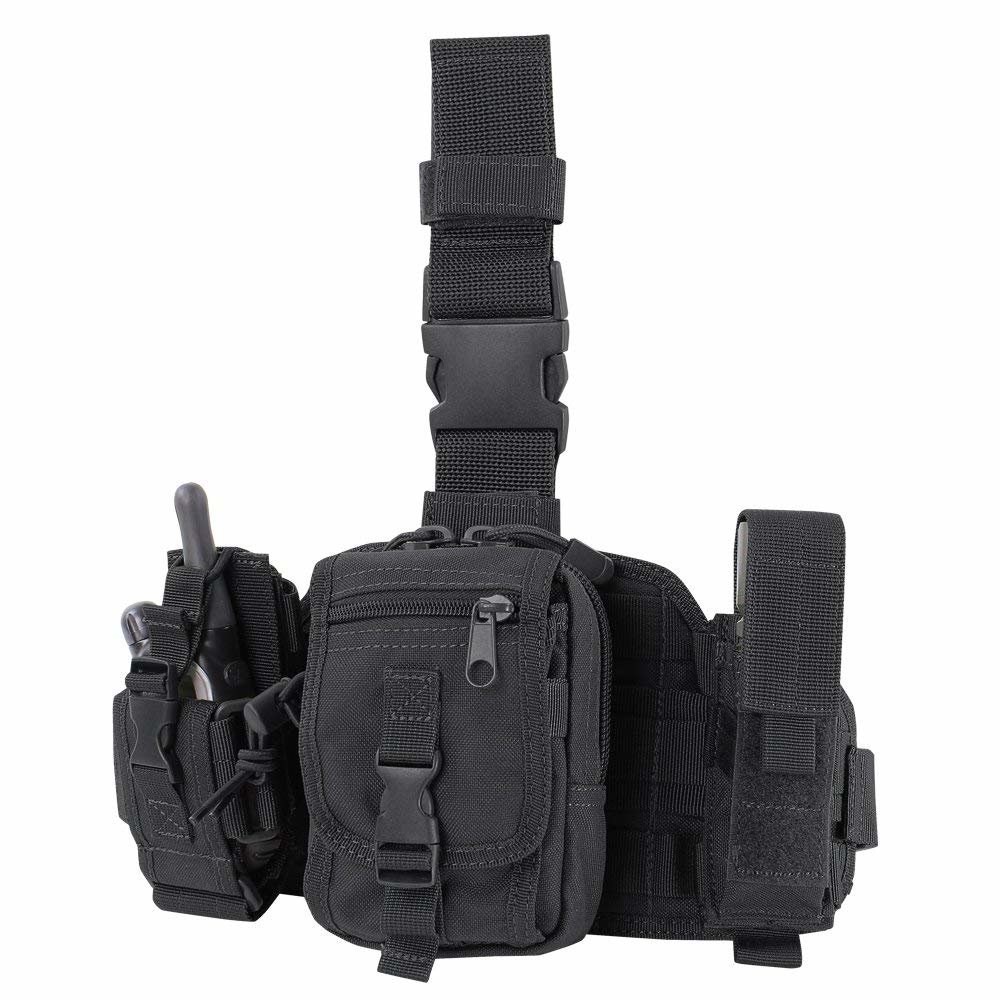 There a variety of pouches and storage compartments in the Condor Utility Drop Leg Bag, and the ability to attach and detach them how you wish is a big selling point for many. It's well made and very cleverly designed.

Pros

How you choose to use your Condor Utility Drop Leg Bag is truly up to you, and that's what makes it so appealing. You can take away the storage compartments if you want to and then add them back when you have a need for them.

Cons

The detachable bags themselves are certainly not the biggest, and this can be a source of frustration for some people. The number of compartments isn't going to be a problem for you but if you want to carry larger items, the size of them might be.

6. East West U.S.A Tactical Drop Leg Bag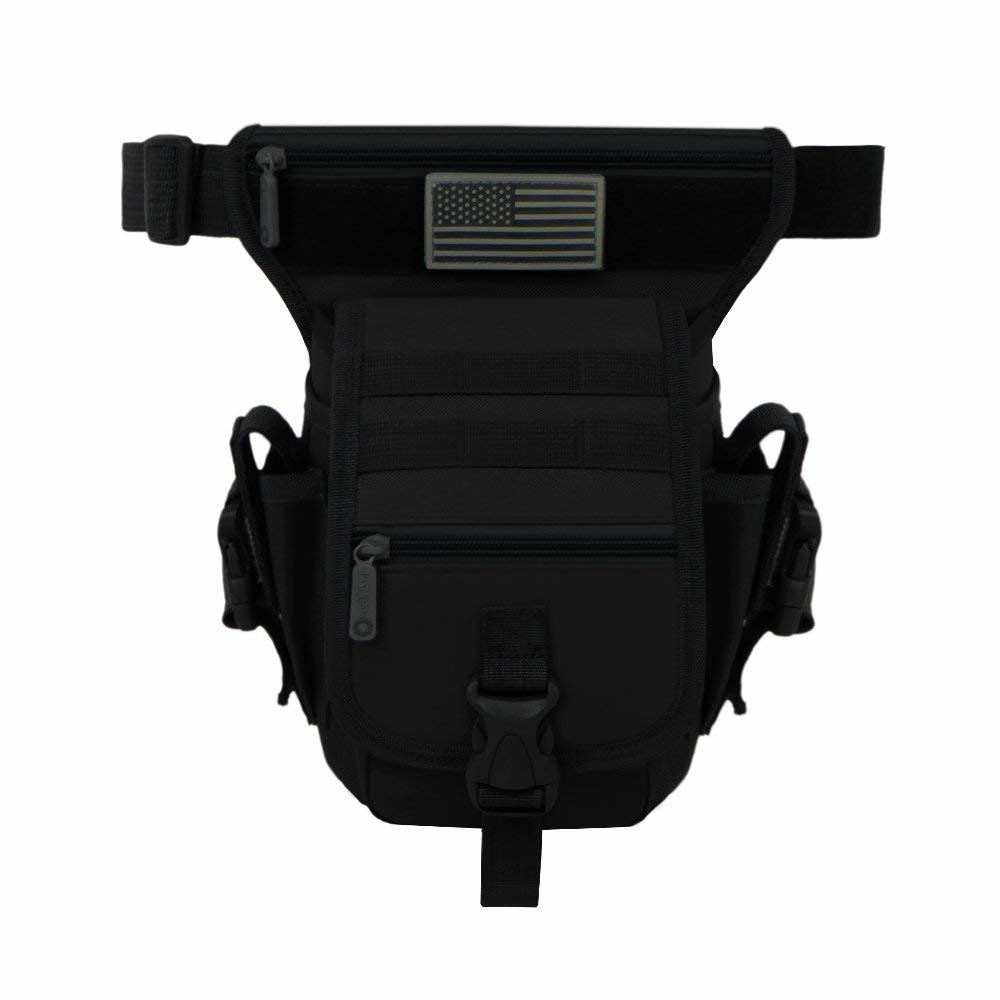 The East West U.S.A Tactical Drop Leg Bag has more pockets than you'll know what to do with. And the bag is fully adjustable to meet all your needs.

Pros

This is a bag for anyone who wants to go truly hands-free. The space inside this bag is enough to accommodate all needs. It also stays in there securely thanks to the straps, zips and velcro that are in place.

Cons

Some people find that the bag can sometimes rotate a little out of position when it's being worn, but that doesn't happen for everyone. It's also the case that velcro isn't everyone's preference, but it's just one of multiple fastening methods here.

7. Eshow Tactical Drop Leg Bag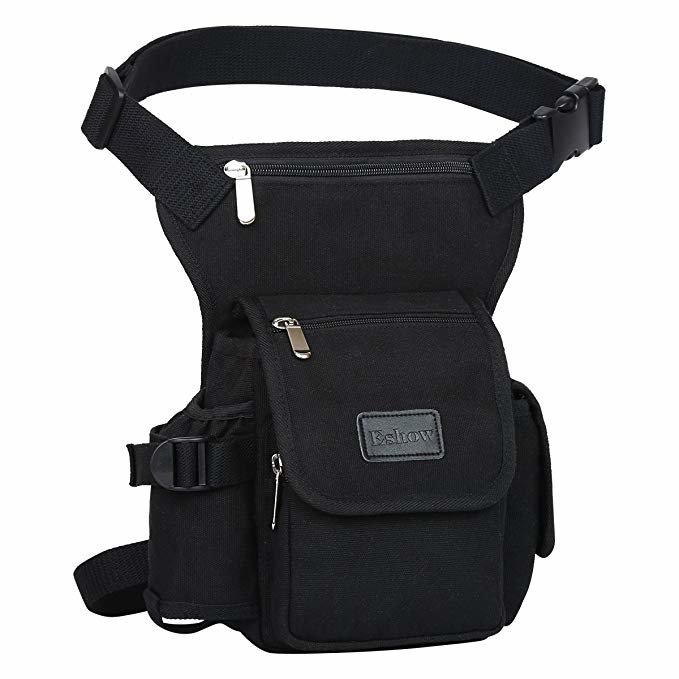 With a large main compartment and multiple hidden areas in which to store things, the Eshow Tactical Drop Leg Bag is sure to meet your needs. The storage space is generous and can store a camera alongside plenty more, as the name suggests.

Pros

The high-quality nylon material used here is definitely a bonus, as is the elegant and ergonomic strap and the plentiful space inside the bag. Many users of the bag have also noted how rugged and durable the bag is once its been put through its paces.

Cons

One issue that some people have had with this Eshow bag is that it comes with a slight chemical smell out of the box. But that's something that generally wears off over time. Heavy use can also lead to some fraying issues eventually.